News story
Collision between a tram and a pedestrian, Edinburgh
Investigation into a tram/pedestrian collision at a footpath crossing near Saughton tram stop, Edinburgh, 11 September 2018.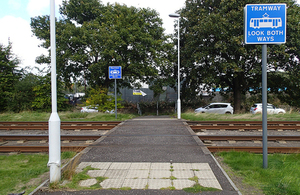 At about 12:10 hrs on 11 September 2018, a pedestrian who was using a footpath crossing located between Balgreen and Saughton tram stops, was struck and fatally injured by an outbound tram travelling from Edinburgh city centre towards Edinburgh Airport. The crossing, over two tram tracks, provides a pathway between Stenhouse Drive and Saughton Mains Street.
Our investigation will seek to identify the sequence of events which led to the accident and consider any relevant operation or underlying management factors.
Our investigation is independent of any investigation by Edinburgh Tram, the Office of Rail and Road, Police Scotland, or the Procurator Fiscal.
We will publish our findings, including any safety recommendations, at the conclusion of our investigation; these will be available on our RAIB website.
You can subscribe to automated emails notifying you when we publish our reports.
Published 4 October 2018
Last updated 4 October 2018
+ show all updates
Content updated
First published.