Collision between a train and a collapsed signal post at Newbury
Investigation involving a passenger train striking a signal that had collapsed and fallen across the track near Newbury on 17 November 2014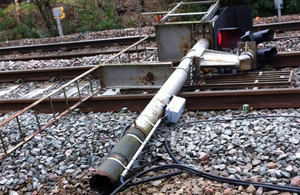 The accident occurred at about 14:35 hrs and involved train 1A83, the 10:41 hrs First Great Western service from Truro to London Paddington, travelling on the up line between Newbury and Newbury Racecourse stations, Berkshire. The train struck the junction indicator attached to the head of signal T2865. The signal was attached to a metal post which was lying across the down line (the line usually used by trains travelling west) and foul of the up line. Before it collapsed, this signal post had been standing adjacent to the down line.
The train was travelling at approximately 110 mph (177 km/h) at the point of collision. Although the train did not derail, it did sustain exterior damage to the cab of the leading power car and a ruptured air pipe.
Immediately before the accident there had been no indication of a problem to the signaller because the signalling cables were still intact and the signal itself was still showing a light. A freight train had passed through the area on the down line around 15 minutes before the collision without incident.
The post of signal T2865 (formerly numbered R824) had last been examined in June 2014 and no defects were reported for it. However, the base of the post was hidden by ballast and corrosion at and below ground level was not detected by the examination regime. The signal head was replaced on 28 September 2014 and no issues were reported with the signal post at that time.
Our investigation will focus on the examination regime for this signal post and other similar structures, and will seek to understand how the post of signal T2865 came to be susceptible to corrosion and why this was not detected before it collapsed.
We will assess the railway industry's current strategy for the examination and maintenance of such structures, and will review the actions taken in response to previous RAIB recommendations relating to structural failures.
Our investigation is independent of any investigation by the Office of Rail Regulation.
We will publish our findings, including any recommendations to improve safety, at the conclusion of our investigation. This report will be available on our website.
You can subscribe to automated emails notifying you when we publish our reports and bulletins.
Published 3 December 2014