News story
Collision between a freight train and a utility vehicle in Dollands Moor yard
Investigation into a collision between a freight train and a utility vehicle in Dollands Moor yard near Folkestone, Kent, 4 September 2018.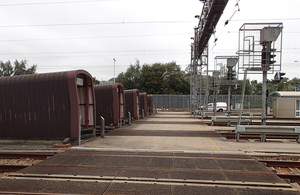 At about 03:39 hrs on Tuesday 4 September 2018, a freight train travelling towards the Channel Tunnel struck a utility vehicle on a level crossing at the west end of Dollands Moor yard near Folkestone. The train was due to stop in the yard for an inspection and to change locomotive before entering the tunnel.
The train was travelling at 22 mph (35 km/h) and braking, when it struck the stationary utility vehicle. This was driven by a shunter who had been sent to undertake a routine check of the incoming train. The shunter jumped or was thrown from the vehicle and was seriously injured. The train came to a halt after travelling about 100 metres, and petrol from the utility vehicle ignited causing a fire. The train driver had already left the train and was not injured, but the locomotive cab was extensively damaged.
Our investigation will seek to identify the sequence of events which led to the accident and will consider:
the actions of those involved
factors affecting the shunter's awareness of his location and his view of the approaching train
the visibility of the utility vehicle to the approaching train driver
the method of working within Dollands Moor yard
any underlying management factors
Our investigation is independent of any investigation by the railway industry, the Office of Rail and Road, or the British Transport Police.
We will publish our findings, including any safety recommendations, at the conclusion of our investigation; these will be available on our RAIB website.
You can subscribe to automated emails notifying you when we publish our reports.
Published 21 September 2018