News story
Collision at Shalesmoor tram stop
Investigation into a collision between trams at Shalesmoor, Sheffield, 22 October 2015.
This news article was withdrawn on
This item has been moved to the National Archives as RAIB has published its report describing this accident. See Report 17/2016.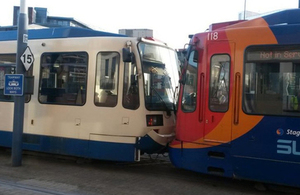 The accident occurred at around 08:25 hrs on 22 October 2015, at Shalesmoor tram stop.
Tram 118 which had departed from Middlewood and was bound for Sheffield city centre, was stationary at the tram stop. It was struck from behind by tram 120, which was travelling from Malin Bridge towards the city centre. The impact speed was around 10 mph (16 km/h). There was no derailment.
Both trams were heavily loaded with passengers at the time. Three passengers and a member of staff received minor injuries. Both trams suffered damage and there was disruption to tram services through Shalesmoor for the rest of the day while recovery operations were undertaken.
Initial analysis of the evidence indicates that tram 120 did not brake as quickly as would be expected even though the driver applied the magnetic track brake which is designed to provide additional braking force over and above that provided by the braked wheels. The tram tracks around Shalesmoor tram stop are known to suffer from low adhesion conditions in autumn, due to contamination from leaves crushed onto the rail head.
Our investigation will consider the sequence of events and the factors that led to the accident. The investigation will include consideration of the actions of the driver, the driver training regime, the performance of tram 120's braking systems and the regime for managing low rail head adhesion conditions on the Sheffield Supertram network. It will also consider any relevant underlying management issues.
Our investigation is independent of any investigation by the railway industry or by the industry's regulator, the Office of Rail and Road.
We will publish our findings, including any recommendations to improve safety, at the conclusion of our investigation. This report will be available on our website.
You can subscribe to automated emails notifying you when we publish our reports.
Published 17 November 2015