News story
Collision at Barrow upon Soar
Investigation into a collision between a train and a piece of equipment at Barrow upon Soar sidings, Leicestershire, 14 February 2016.
This news article was withdrawn on
This item has been moved to the National Archives as RAIB has published its report describing this accident. See Report 21/2016.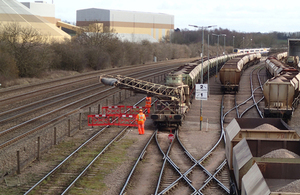 At around 10:27 hrs on 14 February 2016, a passenger train collided with a conveyor boom projecting from an aggregates train standing in Barrow upon Soar sidings (some Network Rail documents refer to the sidings as Mountsorrel sidings).
The train was the 10:20 hrs East Midlands Trains service from Leicester to York. It consisted of a seven car class 222 diesel multiple unit and struck the boom of the wagon, which was projecting over the line, at approximately 102 mph (163 km/h). The maximum speed allowed for this type of train at this location is 110 mph (176 km/h). The driver applied the emergency brake and the train stopped approximately 0.75 miles (1.21 km) from the point of impact.
The front coach of the train was damaged by the impact but did not derail. The unloading conveyor arm was also damaged and a member of staff, who had been working on the conveyor, was seriously injured and was taken to hospital by air ambulance. Nobody on the train was injured, but the driver was badly shaken.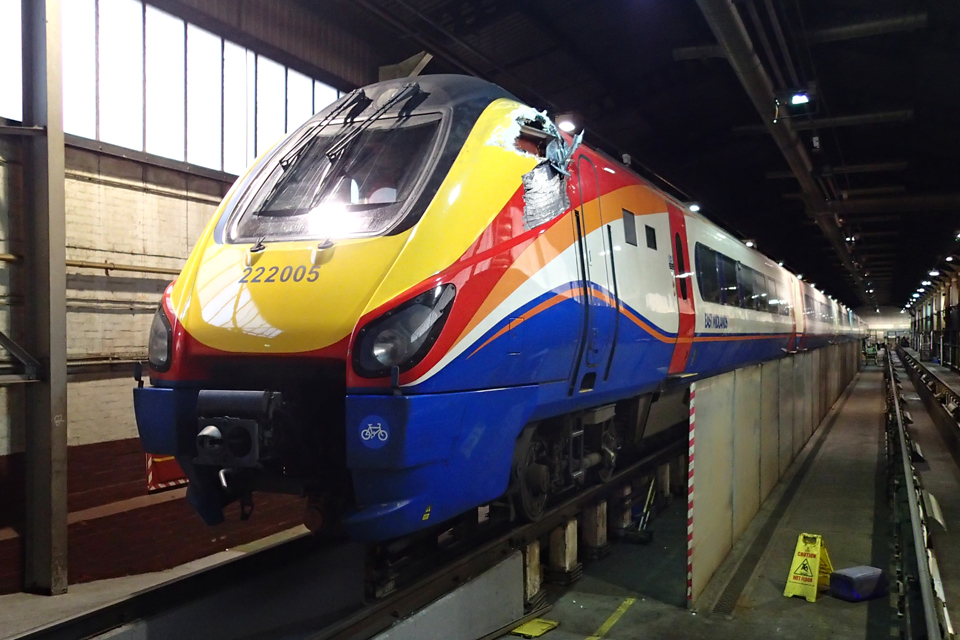 After the accident, the train was moved at low speed to Loughborough station where the passengers were detrained to continue their journeys on other services.
The wagon involved in the accident was part of a train which had been loaded with aggregates ready for departure the following day. It was being prepared for service by the member of staff at the time of the accident.
Our investigation will examine the sequence of events leading up to and during the collision, the preparation and maintenance work that was being carried out on the wagon, the procedures which govern this work and any underlying management issues.
Our investigation is independent of any investigation by the railway industry, the Office of Rail and Road (ORR) or the Health & Safety Executive.
We will publish our findings, including any safety recommendations at the conclusion of our investigation; these will be available on our website.
You can subscribe to automated emails notifying you when we publish our reports.
Published 29 February 2016