News story
Collaboration Nation: inspired by technology
Collaboration Nation: Technology Inspired event gives small businesses the chance to show their ideas to potential partners and investors.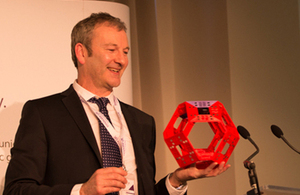 The Collaboration Nation: Technology Inspired event yesterday (Wednesday 10 December) saw innovative technology companies pitch the outcomes of their feasibility studies to organisations that could help them get their ideas closer to market.
Companies who pitched have been working on various everyday life issues such as:
improving road safety by checking your tyres with a photo (with 2011-2020 being the United Nations' decade for action on road safety)
beating cancer by developing an early warning screen to spot cancer secondaries early so medical intervention can kill those secondaries and save lives
Collaboration Nation: Technology Inspired - watch the live recording
Companies joined the event from the fields of:
advanced materials
information & communication technology
biosciences
electronics, sensors & photonics
Innovators at the event watched their peers present 2 and a half minute pitches and were asked to vote on the best pitches live throughout the event.
The companies who pitched well now have a greater chance of getting their innovations to market more rapidly and efficiently.
Innovate UK Collaboration Nation events help businesses in 2 ways:
you can connect with potential partners and investors
by networking and connecting with businesses from different areas you may be able to identify market opportunities
As our chief executive Iain Gray explained as he opened Collaboration Nation, Innovate UK is here "to promote economic growth through the support and stimulation of business-led innovation."
Published 11 December 2014