Collaborate in a business-academic partnership: apply for funding
A Knowledge Transfer Partnership can help UK businesses collaborate with a university, research organisation or highly qualified graduate.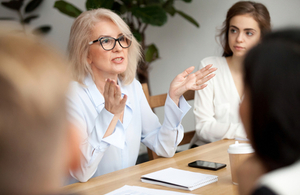 Businesses can apply for a share of £40 million to participate in a Knowledge Transfer Partnership (KTP).
KTPs offer funding and support to turn academic insight into successful products and services, promoting growth and future development.
Businesses can build on existing relationships with an academic partner or begin a new collaboration with a university, college or research and technology organisation.
Translating research into commercial success
The KTP programme was expanded in the 2018 Budget, with £25 million invested to create more than 200 spaces for additional graduates and academics to work together over the next 5 years.
UK businesses looking to work on innovative projects with graduates or research entities can receive funding and support through KTPs.
Projects can focus on any technology or industry area, and last between 1 to 3 years.
Applicants must:
focus on a specific project
set out the nature and goals of the project
give details of who will take part
establish what the graduate is expected to deliver
Qioptiq's largest ever contract
Qioptiq designs and manufactures photonic products across multiple markets and sectors, including X-ray imaging for medical and modules for defence.
Following a KTP with the Cardiff Business School at Cardiff University, Qioptiq secured a contract with the Ministry of Defence worth £82 million – the company's largest ever – to ensure UK armed forces will have access to essential night vision equipment.
As a result of the contract, Qioptiq opened a £3.7 million warehouse in North Wales and increased its staff numbers.
Programme information
applications for Knowledge Transfer Partnerships are open throughout the year
the deadline for applications for this round is 29 May 2019. If an application misses a deadline it will automatically be entered into the next round
projects can last between 1 to 3 years
businesses and not-for-profit organisations of any size can apply
the size of the grant and own contribution can vary. Typically:

small and medium-sized businesses can contribute around £35,000 per year, or around one-third of the project costs
large businesses contribute about £55,000 per year, or half of the project costs
Published 14 March 2019