Coldstream Guards reinforce links with the South West
The Coldstream Guards celebrated their links with the South West of England last week with two days of special events that brought the iconic scarlet tunics and bearskins of the Foot Guards to the streets of Devon.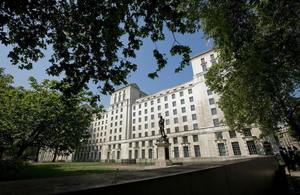 On 5 July 2011, Number 7 Company exercised the Freedom of the Parish of Merton, accompanied by the Corps of Drums, followed by an evening concert by the regimental band in front of an 800-strong audience in Exeter Cathedral in aid of regimental charities.
The next day, several thousand spectators lined the streets of Exeter to cheer as some 300 members of the 1st Battalion Coldstream Guards exercised their Freedom of the City.
All three events celebrated the historic and modern ties between the Coldstream Guards and the West Country.
The regiment's first commanding officer, Colonel (later General) George Monck, was born in Merton in 1608 and later lived in Exeter.
The South West remains a strong recruiting base for the Coldstream Guards to this day; indeed, many of the soldiers on parade hailed from Devon, and were supported by proud family and friends in the crowd.
Lieutenant Colonel Robin Sergeant, Commanding Officer of the 1st Battalion Coldstream Guards, explained the importance of the events:
It's an opportunity for us to reinvigorate the links we have to the West Country.
We have a long shared history. It means a great deal because you can't do the job we do without feeling that we have the support of the people.
It was so fantastic to see the crowd five- or six-deep, and it really makes us feel like we're doing a job that's worthwhile.
The Lord Mayor of Exeter, Councillor Stella Brock, inspected the troops before formally presenting the Freedom of the City scroll:
The honour of the Freedom of the City is one which allows the regiment to march through the city's streets with 'drums beating, colours flying and bayonets fixed', and, while some these days may consider it largely to be a ceremonial honour, I consider it to be an important way for all concerned to remember and recognise the important links and support the city and its citizens gives Her Majesty's Armed Forces.
I know that many of those standing here before me today have links with the city and are proud to be here again.
Published 12 July 2011