Colchester homes fit for heroes
Defence Estates (DE) has completely refurbished 136 homes, externally and internally. The homes have been given new kitchens and bathrooms with…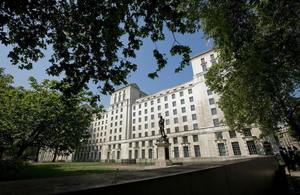 Defence Estates (DE) has completely refurbished 136 homes, externally and internally. The homes have been given new kitchens and bathrooms with showers. They have been fully redecorated with new curtains, carpets and flooring.
The properties meet modern standards and environmental needs with better insulation, replacement roofs, new heating and electrics. Walls have been moved to create more spacious rooms, the houses have more storage space and doors and windows have been replaced. In addition, the homes are fitted with a new digital television booster and aerial.
Air Commodore Elaine West, Head of DE Operations Housing, said:
Defence Estates' top priority is supporting our Armed Forces and their families. Our aim is for all Service housing to reach our top standard, and the upgraded homes at Colchester are a good example of the work we've been undertaking across the UK.

But like all our projects, what we've delivered at Colchester is very important and goes beyond planning, building work and money invested. These refurbishments are making a real difference to Service families who are enjoying their new homes.
Garrison Commander Colonel Tom Fleetwood said:
The upgrade of these quarters has made a real difference to the quality of life of the occupants. The delivery of top quality accommodation is a priority for all of us. I am delighted to see how well the work has gone.
"The play park has been much needed and long awaited and I know families are delighted with such a fantastic facility."
The Colchester upgrade project was managed on behalf of DE by MODern Housing Solutions and came in ahead of schedule.It also included a new large play park opposite the refurbished homes providing somewhere to play for children of all ages on the estate.
Local schools entered a competition to name the play park. The winning entry 'Monty's Park' came from Montgomery Infant School, in Baronswood Way, Colchester.
Headteacher Sally Leung said:
We're delighted our school provided the name for this play park. The timing of its opening is wonderful, with so many young families who will use it and the summer holidays fast approaching.
The playground was opened by the Worshipful Mayor of Colchester Councillor Sonia Lewis, with Colchester United star Morten Knudsen and club mascot Eddie the Eagle.
Lucy Jackson and her husband Corporal Karl Jackson M.C, serving with 3 Parachute Regiment, moved into their home with seven-month-old son Jake.
Mrs Jackson said:
When I saw the refurbished property, I was over the moon. Anything that makes living here easier with a husband in an operational unit is absolutely invaluable to a Forces family. The house is a pleasure to live in and coming home puts a smile on my face.
Corporal Jackson was awarded the Military Cross for 'gallantry in the face of enemy on land' on his last tour of duty in Afghanistan. At the age of 28, he has already completed two tours in Afghanistan and is set to return, as the Brigade goes back under Op HERRICK for the third time since 2006.
He said:
The last thing you need when you're out in Afghanistan are niggling problems with your home. A house like this makes the job so much easier.
Angie Vennard and husband Private Chris Vennard, also serving with 3 Parachute Regiment, moved into their three-bedroom home earlier this year with their children Aidan, three, and Ethan, one.
When asked what her refurbished home was like, Mrs Vennard said:
The house is absolutely gorgeous. It's airy and spacious with a really modern kitchen and bathroom. Having space makes a big difference as the kids get older and, since I don't drive, having a new play park close by is great.
Published 20 July 2010