News story
Cocaine worth £17m seized by Border Force in Essex
An attempt to smuggle 168 kgs of cocaine - worth an estimated £17 million - into the UK has been stopped by Border Force at Tilbury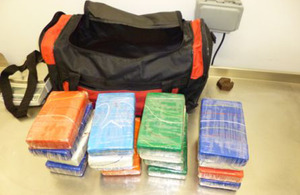 Cocaine with an estimated street value of £17 million has been seized by Border Force officers at the Port of Tilbury.
The drugs, which had been shipped from Senegal, were destined ultimately for Belgium but were seized by Border Force when the vessel carrying them docked at Tilbury.
The cocaine had been concealed within two canvas-topped containers carrying a legitimate cargo of tin alloys.
Cocaine
The seizure of 168 kgs of the Class A drug was made on 15 March. Details could not be released until today for operational reasons and investigations are continuing.
Mark Kennedy, Border Force Assistant Director at Tilbury, said:
This is undoubtedly a major detection of drugs which will have severely damaged the illegal business of those involved.
Although ultimately bound for Belgium, there is no doubt that the drugs would have spread further afield and a large chunk would almost certainly have found its way back to the UK.
Seizures like this demonstrate how Border Force officers are at the forefront of the fight to keep illegal drugs and other banned substances off the streets of not only the UK, but Europe as a whole.
Smugglers
The smugglers had stashed the drugs inside seven holdalls – three in one container and four in the other.
Mark Kennedy added:
There was no elaborate concealment, the holdalls had simply been placed on top of the legitimate cargo to allow the smugglers easy access. Their plan would have been to break into the containers, remove the drugs, fit a replacement seal and get away very quickly leaving no evidence that they'd ever been there.
Border Force officers use hi-tech search equipment to combat immigration crime and detect banned and restricted goods that smugglers attempt to bring into the country.
They use an array of search techniques including sniffer dogs, carbon dioxide detectors, heartbeat monitors and scanners - as well as visual searches - to find well-hidden stowaways, illegal drugs, firearms and cigarettes which would otherwise end up causing harm to local people, businesses and communities.
Anyone with information about suspected smuggling should contact our hotline on 0800 59 5000.
Published 22 April 2013