Press release
Coastguards reunite missing dog with owners in Torbay
Coastguards have reunited a dog with its owners more than 12 hours after it went missing.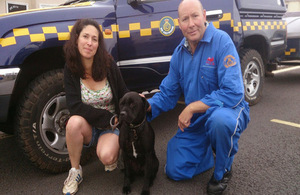 Brixham Coastguard was contacted just after 7.30 this morning (Tuesday 17 June 2014) by a member of the public who spotted a dog in the water near Babbacombe pier.
The woman was concerned for the safety of this dog as she was thought it would be swept further out to sea and wouldn't be able to get back to shore. Worried that the woman was about to go in after the dog, the Torbay Coastguard Rescue Team was sent to the scene. When they got there the staffie cross had managed to swim his way back to shore.
Upon further investigation, it turned out the dog, called Harry, had been reported missing by his owners at 6pm yesterday evening. Torbay Coastguard Rescue Team has since taken Harry back to his owners.
Andy Huber, Watch Manager at Brixham Coastguard, said:
We'd just like to take this opportunity to remind people not to attempt to rescue a dog which is being swept out to sea. This is because you are likely to get into difficulty. We find that many dogs return to shore alive but sometimes people don't.
In this case there is a happy ending and we're pleased we've been able to reunite Harry with his relieved owner.
Remember, if you see anyone in difficulty at the coast, call 999 and ask for the Coastguard.
Maritime and Coastguard Agency press office
Press enquiries 020381 72222 (Monday to Friday, 9am-5pm)
Outside these hours, for emergency press enquiries only please dial the above number. You will hear a message giving an out of hours pager number.
Published 17 June 2014