Press release
Coastguard celebrates award in Queen's Birthday Honours
An Eastbourne Coastguard has been awarded an MBE for his dedication and commitment to the Coastguard Rescue Service.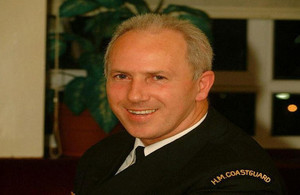 Stuart McNab has been with the Eastbourne Coastguard Rescue Team for more than two decades, and has been leading the team as Station Officer for the last 15 years. In that time, he has attended over 2,000 coastal incidents, including in excess of 500 cliff and recovery operations, mostly from the cliffs in and around Beachy Head.
In receiving the MBE, Stuart has been recognised for his efforts in often difficult and challenging circumstances. The honour also recognises how he has gone the extra mile in liaising with the bereaved after the recovery phase to help them come to terms with the loss of family members.
Stuart, who lives in Eastbourne, said:
I am extremely pleased and honoured that my service to Her Majesty's Coastguard has been recognised in this way. None of my achievements would have been possible without my team however, which I am incredibly proud to be a part of.
Richard Martin, Chief Coastguard, said:
I'm delighted that Stuart has been awarded an MBE for his hard work and dedication. Stuart is a committed, compassionate and a highly capable professional with a proven track record of cliff rescue and recovery in difficult and emotionally challenging circumstances.
I'd like to take this opportunity to thank Stuart and all of our Coastguard Rescue Officers, who give up their free time to respond to coastal emergencies incidents in all weathers and often at unsocial hours.
Maritime and Coastguard Agency press office
Press enquiries 020381 72222 (Monday to Friday, 9am-5pm)
Outside these hours, for emergency press enquiries only please dial the above number. You will hear a message giving an out of hours pager number.
Published 16 June 2014