News story
CMA signs memorandums of understanding with 2 regulators
The CMA has signed memorandums of understanding (MoUs) with 2 more regulators in relation to competition issues.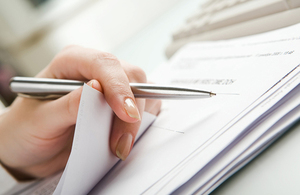 The Financial Conduct Authority (FCA) and the Payment Systems Regulator (PSR) have agreed MoUs setting out the framework for co-operation with the Competition and Markets Authority (CMA), following their acquisition of full concurrent competition powers in April 2015.
The new MoUs set out arrangements relating to the allocation of cases, the sharing of information and confidentiality constraints, and the pooling of resources in relation to these powers, which are held concurrently by the CMA and those regulators respectively.
These new MoUs are similar to those agreed last year with Ofcom, Ofwat, Ofgem, the Office of Rail and Road, the Civil Aviation Authority and the Northern Ireland Authority for Utility Regulation. However, they have been revised to reflect practical experience of the enhanced concurrency arrangements since they took effect in April 2014 and a number of issues raised by the 2 new signatories.
Revised versions of the MoUs agreed last year will also be published shortly.
Published 22 December 2015