Press release
CMA launches short guide on competition law risk
The CMA has today launched a short joint guide to competition law risk with the Institute of Risk Management (IRM).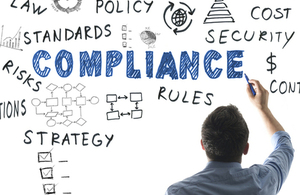 Speaking at the IRM's annual Risk Leaders Conference, CMA Chairman, David Currie, urged business leaders to escalate competition law up board agendas and called for a culture change to support this.
The short guide aims to help risk professionals understand and identify business behaviours that could put firms at risk of breaking competition law by straying into anti-competitive practices. The potential repercussions of breaking the law are significant and include heavy fines, prison sentences, director disqualifications and reputational damage.
The guide features a range of high profile case studies highlighting unlawful business practices. The case studies demonstrate how easy it can be to get into difficulties if business behaviour risks are not properly understood. The guide also provides suggestions to help organisations approach and manage risk effectively, based on the Competition and Markets Authority's (CMA) four-step process for competition law compliance.
Lord David Currie said:
Anti-competitive behaviour must be taken as seriously by UK businesses and boards as the risks around bribery, fraud, health and safety and cyber crime. The majority of businesses don't want to break the law but it's the role of risk professionals and other advisers to ensure boundaries are clearly understood and respected.
Richard Anderson, Institute of Risk Management Chairman, said:
It's one thing to say that organisations should have a zero risk appetite for breaking the law. Yet to achieve this requires not just that the right policies, processes and procedures are in place. It's also vital that an organisation's culture, from board room to shop floor, positively supports ethical and legal behaviour.
Read the short guide to competition law risk.
Notes for editors
The CMA is the UK's primary competition and consumer authority. It is an independent non-ministerial government department with responsibility for carrying out investigations into mergers, markets and the regulated industries and enforcing competition and consumer law. From 1 April 2014 it took over the functions of the Competition Commission (CC) and the competition and certain consumer functions of the Office of Fair Trading (OFT).
David Currie is the chairman of the CMA.
The Institute of Risk Management is an independent, not-for-profit organisation that champions excellence in managing risk to improve organisational performance.
Enquiries should be directed to Siobhan.Allen@cma,gsi.gov.uk on 020 3738 6460 or Rory.Taylor@cma.gsi.gov.uk on 020 3738 6798.
Published 11 November 2014