Press release
CMA Chairman to step down once successor in place
David Currie, Chair of the CMA, is to step down in the coming months, once a successor is identified and in place.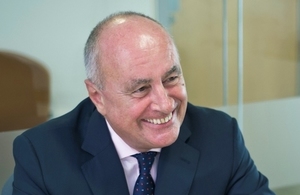 Handing over the organisation's leadership at this point will allow his successor to both shape and deliver the organisation's approach to Brexit.
Lord Currie is the founding Chairman of the Competition and Markets Authority (CMA), having taken on the role in September 2012. He led the process of merging the Competition Commission and Office of Fair Trading and developing a high performing single competition and consumer body for the UK.
During his term of office the CMA has heavily scaled up its enforcement of competition law, streamlined its review of mergers and delivered wide ranging reviews into major consumer markets. It is currently investigating issues ranging from secondary ticketing and care homes to NHS drug prices and the merger of Tesco and Booker.
He said:
I have asked the Secretary of State to start the process to look for my successor, and he has agreed. I will step down once that person is in place.

I feel confident that now is a good time to pass over the reins. The CMA is firmly established, and working effectively as a single competition body for the UK, helping ensure consumers and businesses get a better deal. It has a strong and effective Chief Executive in Andrea Coscelli, whose recent permanent appointment from within the organisation ensures continuity of leadership.

Brexit is likely to generate a big increase in the CMA's workload and its role in the world, and I owe it to my successor to allow them enough time to be involved in shaping its plans to respond to that challenge, and then take the organisation into the next phase of its development. For that reason, I have concluded that the process to find my successor should be started now, rather than closer to March 2019.
Notes to editors
The CMA Chair is appointed by the Secretary of State for the Department for Business, Energy & Industrial Strategy under the Enterprise and Regulatory Reform Act 2013.
David Currie's biography: https://www.gov.uk/government/people/david-currie
Andrea Coscelli's February speech on the CMA's role as the UK exits the European Union.
Published 13 September 2017