Press release
Clydesdale and Yorkshire Bank joins UK Export Finance export working capital scheme
Clydesdale and Yorkshire Bank have signed an agreement with the UK's export credit agency, UK Export Finance to become a participating bank in its export working capital scheme.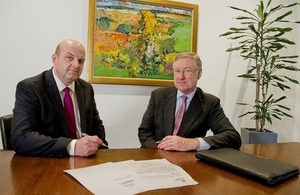 Under the scheme, UK Export Finance (UKEF) provides a partial guarantee to a participating bank thereby allowing the bank to consider increasing the amount of pre- and post-shipment finance it can make available to its export customers.
Having previously been participating banks under UKEF's bond support scheme, Clydesdale and Yorkshire Bank is among a growing number of banks able to offer the full range of UKEF products aimed at supporting smaller exporters.
UKEF Chief Executive, David Godfrey, and Clydesdale & Yorkshire Bank's Acting Head of International Trade Finance, Simon Hayden, signed the agreement at the bank's Glasgow headquarters.
Commenting on the agreement, UKEF's David Godfrey said:
UK Export Finance has a important role to play in supporting British exporters and I am delighted that this agreement with Clydesdale and Yorkshire Banks will enable more exporters to access our support through our export working capital scheme.
Clydesdale and Yorkshire Bank's Simon Hayden said:
We're delighted to be joining forces with UKEF to help businesses take advantage of the opportunities which arise through exporting their goods and services. There are many businesses looking to expand and with a real potential to prosper and this partnership is just one way we can help support them to achieve their ambitions.
Read full details of the export working capital scheme
Media enquiries: Julia Beck, Strategic Communications Manager
Notes for Editors
UK Export Finance is the UK's export credit agency. It supports long term economic growth and competitiveness by complementing the private market with insurance for exporters, loan guarantees to banks, and support for and provision of loans to overseas buyers of UK goods and services.

Sectors in which UKEF has supported exports include: aerospace, petrochemicals, construction, oil and gas, mining and metals, telecommunications, and transport.

UKEF has a regional network of Export Finance Advisers supporting export businesses.

UKEF supports exporters with a range of products.
Published 24 March 2015