Clyde safety centre gets green light
Defence Estates (DE) is starting work on a new headquarters to house the team of experts responsible for maintaining safety at HM Naval Base (HMNB) Clyde.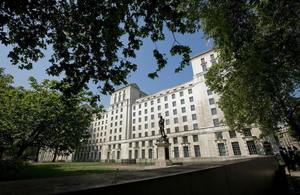 The major 18-month project will replace the current Base Defence Headquarters (BDHQ) and the Nuclear Accident Headquarters (NAHQ) with a single building.
Building the new headquarters at the Faslane home to the UK's strategic nuclear deterrent will allow the Base's incident management teams to be housed in one building. It will enable the teams to improve the way they maintain safety on the base.
David Thorpe, HMNB Clyde's Assistant Head of Project, said:
I am delighted to have secured approval for this extremely important project - the culmination of some seven years of work by a large number of people across the base.
We have great support from all of our key stakeholders including the current facility operators, security, Babcock, Defence Estates and their supply chain who have developed an exciting and innovative facility.
The design for the new HQ includes innovative features such as using waste heat from the air conditioning system to heat the hot water. The first stage of the work begins with the demolition of the current Drill Shed.
John Thomson, DE project manager, said:
Defence Estates key priority is to support the UK's armed forces. We look forward to delivering a modern headquarters that will improve incident command and control capabilities, whilst reducing operating costs.
Delivering this building involves a number of challenges - not least managing the seamless integration of the new facility with the existing base systems, whilst ensuring that the safety teams can continue working without disruption.
In addition to the main construction site, the ICCC project will involve works being carried out across HMNB Clyde, requiring DE to work closely with a variety of partners including Defence Equipment & Support, Turner Estate Solutions, MOD Police and Guarding Agency and Babcock Marine.
The construction of the ICCC is the first of a number of major projects scheduled for Clyde Naval Base, as it moves towards becoming the MOD's Submarine Centre of Specialisation.
Published 1 October 2010