News story
Clothing for injured service personnel
A small Staffordshire business has designed innovative new clothing for wounded soldiers thanks to Ministry of Defence funding.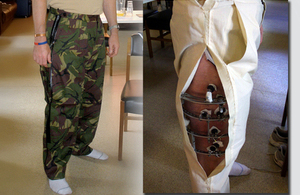 Rackety's is a family-run specialist supplier of clothing for disabled adults and children which had no previous experience of working with the defence market.
It submitted its idea to the Defence Science and Technology Laboratory (Dstl) Centre for Defence Enterprise (CDE) via its Enduring Challenge competition, and successfully received £27,000 of funding.
The money was used to undertake research to develop trousers that can be worn by service personnel who have suffered serious leg injuries.
Dstl provided ongoing support to help Rackety's to understand the unique requirements of wounded personnel, including a visit to MOD's recovery centre at Headley Court where they spent time with troops undergoing rehabilitation.
Until now, personnel who injure their legs and have to wear specialist external supporting frames to aid their recovery have either had to cut their existing trousers to fit, or wear shorts; neither of which is always practical.
However, Rackety's has developed a specialist pair of trousers, worn over the top of the frames, that help to reduce the risk of infection and give wearers the comfort and usability they require.
Rackety's owner, Annabel McMahon, said:
During our visits to Headley Court we realised our existing products were not suitable and discovered there was a need for something completely different.

CDE guided us through the daunting process of dealing with the defence market and provided support with every aspect of the project. This led to the development of the trousers and a whole new potential market in specialised rehabilitation garments.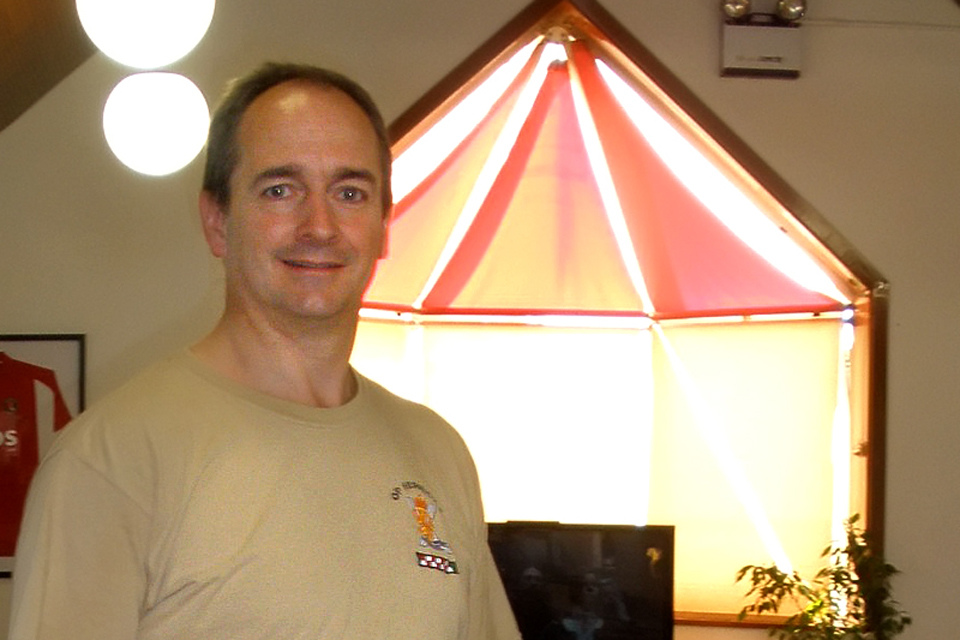 The new product is named 'Richmond trousers' after Colonel David Richmond, an officer who helped Rackety's develop its innovative garment, drawing on his own rehabilitation experience at Headley Court after suffering a gunshot wound to the leg on operations.
Colonel Richmond, who has since left the army, said:
I am delighted to hear of the developments and advances made to these trousers. They could make a huge difference to people who've suffered similar injuries to my own, providing a practical solution and allowing them to maintain their dignity as they continue their recovery.
Given the success of the 'Richmond trousers', it is hoped that further funding from Dstl will allow Rackety's to look at possible commercialisation and development of a range of specialist trousers that could help with amputations and burns for both military and civilian patients.
Head of CDE, Andy Nicholson, said:
Rackety's is a great example of how we can work with small businesses, including those without a defence background, to exploit some of the expertise in industry to benefit our people.

We would encourage firms across the UK with innovative ideas and capabilities that could benefit defence to get in touch.
The Enduring Challenge competition runs on a monthly cycle. Monthly closing dates are published on the Dstl website.
Published 2 June 2014