Closer Royal Navy cooperation with Brazil
Pictured in his office on Friday 19 November, Admiral Sir Mark Stanhope GCB OBE ADC, signed a historic Joint Guidance document designed to strengthen the relationship with the Brazilian Navy.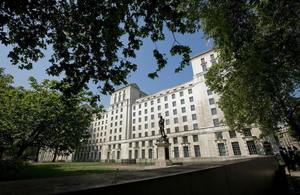 Captain Fuad Kouri, the Brazilian Naval Attaché in London, witnessed the signature and the document will be signed in Brazil by Admiral Moura Neto, the Commander Brazilian Navy.
The Joint Guidance document highlights maritime security, information sharing, wider naval training, hydrography and logistics as key areas for development between the Royal Navy and Brazilian Navy and it paves the way for closer cooperation.
This work follows HMS Ocean's successful visit to Rio de Janeiro in September 2010 where, following a joint amphibious exercise, the ship also hosted Gerald Howarth, Minister for International Security Strategy, who signed a Defence Cooperation Treaty with the Brazilian Government.
After the signature the First Sea Lord said:
I am delighted to be able to sign this important document with Brazil. The close association between our two navies can be traced back to the foundation of Brazil as an independent state.
I am looking forward to the prospect of closer cooperation in the years to come and believe there is much that our two navies can learn from each other.
Published 24 November 2010