Close partnership between the UK and Canada
Foreign Secretary William Hague met Canadian Foreign Minister Lawrence Cannon today.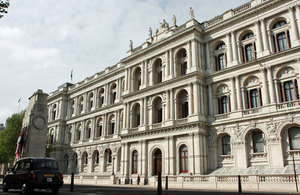 The Foreign Secretary reaffirmed the close and warm partnership between the United Kingdom and Canada and the enthusiasm for working closely together in his discussions with Foreign Minister Lawrence Cannon.
During the meeting, Foreign Secretary and Foreign Minister Lawrence Cannon touched on a range of issues, including the situation in Afghanistan, Iran, and other important foreign policy issues.
The Foreign Secretary and Foreign Minister Lawrence Cannon agreed that progress on these issues could be made through further bilateral co-operation within international organisations such as the United Nations and the Commonwealth. They also agreed that there was considerable opportunity for progress to be made through Canada's current chairmanship of the G8.
Earlier today, the Prime Minister welcomed Canadian Prime Minister Stephen Harper to Downing Street for talks ahead of the G8 and G20 in Canada. Read more
The G8 and G20 will be taking place in Canada later this month.
Published 3 June 2010