World news story
Climate Diplomacy Day at University of Berne
EU Action for Climate Protection - a joint event organised by the British, French and German Embassies and the EU Delegation in Switzerland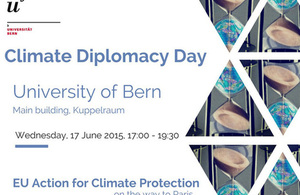 Climate change is one of the major challenges of the 21st century, presenting risks to international prosperity and security. Securing international action in response is a key foreign policy challenge. 2015 is a decisive year for international climate negotiations. To keep us on track to limit global temperature rises to below 2°C, it is essential to secure a fair, ambitious and legally binding international agreement under the United Nations Framework Convention on Climate Change (UNFCCC) at the 2015 Conference of Parties in Paris (COP21).
Climate Diplomacy Day seeks to highlight the positive action that is being taken around the globe in collaboration with the EU and its Member States, and to encourage informed debate and a joint response to the climate challenge. On this occasion the British Embassy together with its French, German and European counterparts organises on Wednesday, 17 June an event on "EU Action for Climate Protection on the way to Paris" at the University of Berne.
Speakers include H. E. Dr. Otto Lampe, the German Ambassador to Switzerland, Prof. Dr. Thomas Stocker from the University of Berne, Ms Berengere Quincy, Goodwill Ambassador for the preparation of Paris Climate 2015 and H. E. Richard Jones, EU Ambassador to Switzerland.
The event is free of charge and an apero will be served after the event.
PDF, 702KB, 2 pages
This file may not be suitable for users of assistive technology. Request an accessible format.
If you use assistive technology (such as a screen reader) and need a version of this document in a more accessible format, please email govuk-feedback@digital.cabinet-office.gov.uk. Please tell us what format you need. It will help us if you say what assistive technology you use.