World news story
Climate change is near the top of the list in 2013
HE Dominic Meiklejohn OBE shares his thoughts about climate change in Solomon Islands.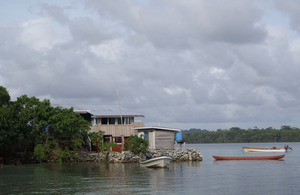 Happy New Year! After a big year in 2012, the High Commission has started 2013 with a lot of hard work, maybe not with the same profile as the visit by Their Royal Highnesses the Duke and Duchess of Cambridge, but just as rewarding.
In 2013, we will be working with British companies looking to expand their trade links with Solomon Islands; to continue to deliver good consular services to UK and other EU nationals; and to work with Solomon Islands on some of their more pressing development challenges.
Climate change is near the top of that list. As an island state, Solomon Islands is on the front line of impacts from climate change. Communities on outlying islands are facing the prospect of re-locating. Others near the coast see the effects in terms of fewer fish and higher sea levels.
I attended a Climate Change workshop in Taro, Choiseul province in January. It was encouraging to see so many stakeholders represented- notably the Lauru Land Conference of the Tribal Community, representing traditional land owners and communities. The Provincial Government of Choiseul is playing an active part in bringing people together to adapt to climate change. It was an excellent way to pay a first visit to Choiseul. My aim is to visit each of the 9 provinces of Solomon Islands by September. I'll keep you posted on how I do.
Dominic Meiklejohn OBE
British High Commissioner Honiara
Further Information
For further information, please contact: Betty Wasuka, Press and Public Affairs, Honiara
Published 5 February 2013