News story
Climate change and the Commonwealth: building global resilience
Foreign Office Minister Henry Bellingham has spoken about the Commonwealth's unique role in tackling climate change.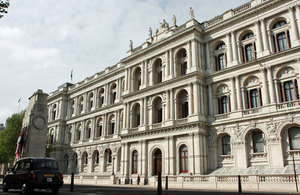 At an event at the Royal Commonwealth Society in London on 15 September, Foreign Office Minister Henry Bellingham spoke about the need to build global resilience to face the challenges of climate change.
Henry Bellingham said:
"Climate change is one of the greatest common challenges facing the modern world.
"Rising global temperatures are already having a devastating effect on people's ways of life. As Minister responsible for the Overseas Territories, I know that for many islands climate change presents an existential threat.
"We must summon collective will among nations in order to protect national and global interests. We need to summon the will not just to avert disaster, but also to seize the opportunities of low carbon growth in trade, investment and new industries."
The Minister described how the Commonwealth represents the spectrum of countries affected by climate change. As a group of countries that are anchored by shared set of values and a commitment to promoting global peace and stability, the Commonwealth network carries weight when it speaks together.
He also argued for more action to decarbonise economic growth and called for progress at the UN climate conference in Durban:
"Climate change is a threat multiplier. But we can make low carbon, climate resilient growth a security multiplier.
"Failure at Durban would be not just a severe blow to the climate change project but also to multilateralism more broadly."
You can read the full speech Climate change and the Commonwealth: building global resilience here.
Published 16 September 2011