Press release
Clegg and Cable: manufacturing crucial to economic recovery
Ministers set out the work the government is doing in partnership with business to help manufacturing strengthen the economic recovery.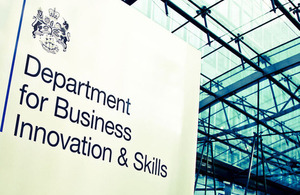 companies urged to bid into £200 million Regional Growth Fund
new evidence of manufacturing jobs returning to the UK
funding for Rolls Royce as part of drive to boost skills
£7 million for cutting edge aerospace research project
Ministers today (19 June 2014) set out the latest work the government is doing in partnership with business to help manufacturing strengthen the economic recovery. A series of announcements were made by a delegation of ministers at the Manufacturing Summit in Merseyside attended by more than 250 business leaders.
A new round of the Regional Growth Fund (RGF) was announced by the Deputy Prime Minister Nick Clegg with £200 million made available to businesses across the country.
It will be the sixth round of the government's flagship scheme designed to create new jobs outside London and encourage business investment nationwide. So far the fund has supported over 400 projects and programmes which will create and safeguard hundreds of thousands of jobs over the long term and stimulate £16 billion of private sector investment.
A further economic boost was delivered by news that Bee Health, based in Bridlington, East Yorkshire, has just won new contracts that have resulted in £15 million of work coming back to the UK from China, India and the US and will create 130 new jobs. The company manufactures capsules, creams, liquids, powders, sprays and tablets and has received support from the government's Manufacturing Advisory Service (MAS).
Deputy Prime Minister Nick Clegg said:
Britain's manufacturers are helping our economy move in the right direction. Growth is up and unemployment is down.

This government has built the foundations for this growth by repairing and rebalancing the country's finances and helping to create more than 1.7 million jobs in the private sector.

We will continue to work hard to build a stronger economy and the Regional Growth Fund is helping us to do this fairly by creating thousands of jobs that last and boosting the private sector across the country.

I would encourage any businesses that can generate significant private sector investment and sustainable jobs to bid for a share of the £200 million available from the fund.
Business Secretary Vince Cable joined the Deputy Prime Minister and in his keynote speech to the Manufacturing Summit, announced:
a £7 million grant to the Advanced Manufacturing Research Centre (AMRC) in Sheffield for research into large titanium parts in aircraft. The latest investment from the £2 billion Aerospace Technology Institute (ATI) will ensure that the UK is at the forefront of cutting-edge research and development for the next generation of aircraft
Rolls Royce and partners have been awarded £4 million of grant funding to help address skills shortages in manufacturing. The project will give 300 young people the opportunity to undertake work experience as part of the Rolls Royce educational outreach programme as well as offering 145 internships and 60 apprenticeships for 16 to 18 year olds. The money from the government's Employer Ownership Pilot will also provide support and training to staff in the supply chain
more young people and teachers will be given the chance to get behind the scenes of the manufacturing industry thanks to an expanded government and industry scheme. See Inside Manufacturing (SIM) is to be expanded to cover all manufacturing sectors.
Business Secretary Vince Cable said:
Government and business have worked in partnership to develop an industrial strategy which will ensure that manufacturing – a key component in our economic recovery – continues to grow. There are signs of momentum – with production now at its highest level in 5 years – that we are determined to nurture.

Our investment in research and development and skills training plus a tax break which incentivises companies to buy new plant and machinery, is giving business the confidence to invest, securing high skilled long-term jobs and building a stronger economy.
Dr Cable started the day by visiting St Mary's Catholic College in Wallasey as part of the Inspiring the Future programme that brings leading employers into state schools to talk about careers. The event had a particular focus on Inspiring Women, with the Business Secretary calling for more girls to work in manufacturing. He said:
The UK economy badly needs technology and engineering skills. The shortfall is most acute in relation to women, where fewer than 1 in 10 UK engineering professionals are female. This is not good enough and must improve.

More young people are studying science and maths at GCSE and A level but we need to do more to encourage ambitious youngsters that these subjects are the best route to successful careers. Only then will we bridge the skills gap. Initiatives like Inspiring Women and See Inside Manufacturing are crucial to recruiting more young people – and women in particular – into manufacturing jobs.
BIS-commissioned research showed more than half of young people (59%) enjoyed science but it was hard to know what careers are available in this area; 4 out of 5 (83%) agreed jobs in science, technology and engineering are about making a difference.
The summit also saw Business Minister Michael Fallon announce that a new government-funded body to attract inward investment to the UK has smashed its targets in its first year.
The Automotive Investment Organisation was created to spearhead inward investment in to the UK. It has achieved:
£457 million worth of investment
80 projects funded – beating the target of 60 projects
more than 5,600 supply chain jobs secured - beating the target of 4,000 jobs
Mr Fallon said:
Manufacturing is driving the UK's recovery and our vibrant automotive sector is leading the way in helping to create jobs and generate growth.

The Automotive Investment Organisation can take some of the credit. It has got off to a cracking start – beating its initial targets by securing over £450 million of investment and creating and safeguarding more than 5,600 jobs in its first year.
Notes to Editors:
See Inside Manufacturing (SIM) involves businesses opening their doors to young people and teachers, allowing them a first-hand view of modern manufacturing and the exciting careers available. The 10 current sectors participating in SIM are Automotive, Aerospace, Nuclear, Oil & Gas, Offshore Wind, Construction, Life Sciences, Electronics, Chemicals, and Food & Drink. SIM will now be extended to all manufacturing sectors.
Further detail about the achievements of the Automotive Investment Organisation in its first year can be found at Automotive Industrial strategy: securing investment and creating jobs
Developing an industrial strategy gives new impetus to the government's economic policy objective to achieve strong, sustainable and balanced growth, by providing more clarity about the long term direction in which government wants the economy to travel.
Further information on industrial strategy can be found at Industrial strategy: government and industry in partnership
Published 19 June 2014