Clarke: London's legal services
Clarke tells Russians London's legal services are unrivalled in size, quality, experience, flexibility, efficiency and value for money.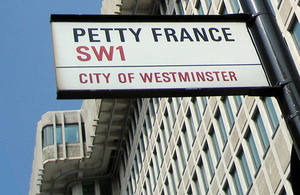 Using London's world class legal services and arbitration and mediation in particular, can save Russian businesses time and money, Justice Secretary Kenneth Clarke said today.
As part of continued efforts to promote the UK as a centre of legal excellence, Mr Clarke is visiting St Petersburg to discuss the economic benefits of strengthening the rule of law. The UK has been working with the Russian government to share best practice and encourage legal and judicial reform.
Justice Secretary Kenneth Clarke said:
'The UK has a strong and growing interest in the progress of Russia's rule of law. I welcome President Putin's stated commitment to strengthen Russian democracy, constitutional rights and freedoms and encourage citizens' participation. A strong Rule of Law would deliver stability and security and economic prosperity, helping to deliver the President's aim of a Russia that is respected worldwide as a reliable, open, fair and predictable partner.
'The UK can help Russia achieve this goal. Businesses need confidence that the law will protect their hard work, payments will be made and contracts enforced. Our alternative dispute resolution services are world class- and unrivalled in terms of size, quality, experience, flexibility, efficiency and value for money. Use of them will increase potential investors certainty and confidence.
'Our Bribery Act is also changing the way we do business for the better affecting what UK companies can do in Russia, as well as what Russian companies with a presence in the UK, can do aboard. I hope that it will both bring an incentive, and benefits, to firms in the UK, Russia, and throughout the world to stop wasting resources on corrupt practices.'
Almost 35,000 disputes were resolved without going to court in London in 2009. Such a record, and the UKs globally respected, independent and enforceable court judgments will be of huge benefit to Russian business, as it strives to become an international financial centre.
Mediation and arbitration are quicker, easier and cheaper ways for businesses to solve disputes and it is estimated that mediation alone could save businesses up to £1.4bn a year.
Coming just weeks after the Brighton Declaration on reform of the European Court of Human Rights was agreed, the Justice Secretary was also keen to stress the importance of national governments, the police and judges observe court judgments. One of the key reforms of Brighton will see governments in all Council of Europe countries taking greater responsibility for implementing judgments from Strasbourg. Mr Clarke, met human rights groups to reaffirm the UK Government's commitment to the protection and promotion of civil liberties as a central tenet of democracy. A range of issues common to both Russia and the UK, were discussed. These include access to justice; juvenile justice; penal reform; police reform; freedom of the press and corruption.
Notes to editors:
For more information, please contact the Ministry of Justice press office on 0203 334 3528.
Published 17 May 2012