Clare's Law pilot to stop domestic violence begins
Police in Gwent and Wiltshire will be the first to start piloting the Domestic Violence Disclosure Scheme, also known as Clare's Law.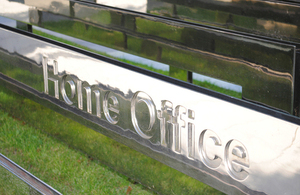 Under the scheme women will have the right to ask the police whether a new or existing partner has a violent past. If police checks show that a person may be at risk of domestic violence from their partner, the police will consider disclosing the information.
The pilot will also look at how the police can proactively release information to protect a person from domestic violence where it is lawful, necessary and proportionate to do so.
Both processes can be implemented within existing legal powers but new guidance developed for the pilot will help ensure that recognised and consistent processes are in place.
Forces in Nottinghamshire and Greater Manchester will join the pilot, which runs until 2013, in September.
Protecting victims
Home Secretary Theresa May said: 'Domestic violence is a dreadful crime which sees two women a week die at the hands of their partners, and millions more suffer years of abuse in their own homes. That is why we are constantly looking at new ways of protecting victims by giving them the support they need.
'This pilot is designed to prevent tragic incidents from happening, such as that of Clare Wood, by ensuring that there is a clear framework in place with recognised and consistent processes for disclosing information to the public.'
Clare Wood
Calls for the introduction of a national disclosure scheme gained momentum following the tragic case of Clare Wood, who was murdered by her former partner in Greater Manchester in 2009.  Her partner had three previous convictions under the Protection from Harassment Act 1997.
The pilot scheme follows a successful public consultation which received more than 250 responses from a wide range of high profile statutory and voluntary organisations.
The Association of Chief Police Officers' lead on domestic abuse, Chief Constable Carmel Napier, said: 'A key part of policing is to protect people from harm.  The Domestic Violence Disclosure Scheme is intended to empower people to make informed decisions to protect themselves and their children when getting involved with a new partner. 
'It will also allow the police to act in the best interests of people they believe could be at risk of violence by sharing information of a partners' violent past.'
Published 16 July 2012