'Clare's law' pilot begins today
The pilot to test the domestic violence disclosure scheme (DVDS), often known as 'Clare's Law', will begin today, the Home Secretary Theresa May announced.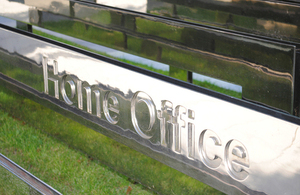 Police in Gwent and Wiltshire will be the first to start piloting the scheme, with forces in Nottinghamshire and Greater Manchester commencing in September. The pilot will end in September 2013.
Under the scheme an individual can ask the police to check whether a new or existing partner has a violent past ('right to ask'). If police checks show that a person may be at risk of domestic violence from their partner, the police will consider disclosing the information. The pilot will also look at how the police can proactively release information ('right to know') to protect a person from domestic violence where it is lawful, necessary and proportionate to do so.
Both processes can be implemented within existing legal powers but new guidance developed for the pilot will help ensure that recognised and consistent processes are in place.
Home Secretary Theresa May said:
Domestic violence is a dreadful crime which sees two women a week die at the hands of their partners, and millions more suffer years of abuse in their own homes. That is why we are constantly looking at new ways of protecting victims by giving them the support they need.   This pilot is designed to prevent tragic incidents from happening, such as that of Clare Wood, by ensuring that there is a clear framework in place with recognised and consistent processes for disclosing information to the public.
Calls for the introduction of a national disclosure scheme gained momentum following the tragic case of Clare Wood, who was murdered by her former partner in Greater Manchester in 2009. Her partner had 3 previous convictions under the protection from harassment act 1997.
The DVDS pilot scheme follows a successful public consultation which received more than 250 responses from a wide range of high profile statutory and voluntary organisations.
Association of Chief Police Officers' lead on domestic abuse Chief Constable Carmel Napier said:
A key part of policing is to protect people from harm.  The domestic violence disclosure scheme is intended to empower people to make informed decisions to protect themselves and their children when getting involved with a new partner.  It will also allow the police to act in the best interests of people they believe could be at risk of violence by sharing information of a partners' violent past.
The government has implemented a series of measures to tackle violence against women and girls (VAWG), including:
providing £40m of funding for specialist support services until 2015
piloting a Domestic Violence Protection Order scheme
carrying out a Teenage Abuse Campaign which highlights to young people that abuse is never acceptable
criminalising forced marriage and the breach of the forced marriage protection order
introducing a new criminal offences for stalking and stalking where there is a fear of violence
NOTES TO EDITORS
The pilot will be evaluated, and a decision on whether to roll out the DVDS scheme nationally will be taken once the evaluation is complete.
The pilot scheme is based on 2 options:
• 'right to ask' - this enables a person to ask the police about a person's previous history of domestic violence or violent acts.  A precedent for such a scheme exists with the Child Sex Offender Disclosure Scheme; and
• 'right to know' - police proactively disclose information about an individual where it is lawful, necessary and proportionate to protect a person from domestic violence.
Please contact the force areas for case studies and spokespeople. Police press office contacts as follows: Gwent Police 01633 647018
Wiltshire Police 01380 734254
Greater Manchester Police 0161 856 2284
Nottinghamshire Police 0115 9672080
The DVDS pilot follows the year-long Domestic Violence Protection Order (DVPO) pilot which closed at the end of last month (30 June). A DVPO enables the police and magistrates to put in place protection for the victim in the immediate aftermath of a domestic violence incident, where the perpetrator can be prevented from returning to a residence and having contact with the victim for up to 28 days. Greater Manchester, Wiltshire and West Mercia police force areas will continue to use the order scheme while the Home Office carry out an in-depth evaluation in order to decide whether or not a change in the law is needed.  Around 320 Domestic Violence Protection Order's (DVPO) have been issued since the scheme began in June 2011.
Published 16 July 2012