Clamping down on metal theft
Metal thieves who steal from war memorials will soon face tough new penalties, Crime Prevention Minister Jeremy Browne warned today.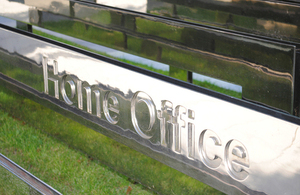 From next month powers will take effect to stop cash paid for metal and give the police stronger powers to target rogue traders.
Days before the nation marks Remembrance Sunday, the minister visited a war memorial site in Erith, Kent, to learn about the devastating impact of metal thieves on the local community.
Metal theft
Jeremy Browne said: 'These thieves show an utter disregard for the memory of the courageous men and women who paid the ultimate sacrifice for their country.
'The government is determined to stamp out this illegal trade, which in recent years has cast a shadow over Remembrance Sunday for bereaved families.
'That is why we are reforming the scrap metal industry to support legitimate dealers and tighten the net around those who flout the rules.'
Scrap metal
Following his visit to Erith War Memorial, the minister visited a local scrap yard where he met representatives from the British Transport Police and European Metal Recycling (EMR) - one of the world's largest metal recycling companies - to discuss what more can be done to tackle metal theft, as well as the forthcoming implementation of a new law to prohibit scrap metal dealers trading in cash. 
The Scrap Metal Dealer's Bill was tabled by Richard Ottaway MP and is expected to receive parliamentary approval in the New Year. The Bill is in addition to a dedicated £5 million provided to the metal theft taskforce and a number of recent legislative changes to tackle metal theft, which include:
banning all scrap metal dealers from trading in cash, removing the 'no questions asked' cash payments which help metal thieves and rogue dealers
increasing each of the financial penalties under the existing regulation of the scrap metal sector
giving the police new powers of entry to tackle illegal trading in metal yards
Theses changes will take effect on the 3 December. 
Published 8 November 2012