Press release
Clamp down on private parking charges
A crack down on parking charges by private firms could end excessive fees and inflated fines forced upon motorists.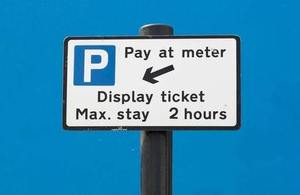 A crack down on rip off parking charges by private firms could end excessive fees and inflated fines forced upon motorists, Communities Secretary Eric Pickles has announced.
Measures could help small shops and town centres by stopping extortionate charges that are a deterrent to shopping locally and instead drive people to shop in out-of-town centres or online.
Topics outlined for discussion today on private parking practices include whether there should be a ban on private companies setting excessive charges or levying excessive penalties for overstaying in a parking bay.
The discussion could also consider the amount and type of data that should be provided to private parking operators by the Driver and Vehicle Licensing Agency and whether a clampdown on the aggressive use of bailiffs by some firms is needed.
It could also look at whether steps need to be taken to stop unclear or missing signs leading to a parking penalty or to tackle a lack of clarity on charges and fines.
Communities Secretary Eric Pickles said:
We need to look at whether private firms are charging unnecessarily excessive fees or fines simply for parking. Nobody should endure the stress of being clobbered with a huge bill just for driving to the shops.

Extortionate fees only put people off driving to high streets and damage local retailers and businesses. They are far from fair for motorists who end up paying through the nose.

This discussion paper will allow people to raise issues about the way private and public parking firms operate and charge motorists.
This discussion applies to issues on parking on private land and on land owned by public authorities.
Topics to be considered could back other government measures recently brought in that give drivers a 10 minute grace period when parked in a bay to prevent fines for being just a few minutes late back to a vehicle.
The use of CCTV 'spy cars' has also been banned in the majority of circumstances, ending the tyranny of automated fines being issued in industrial volumes, and landing on doorsteps without warning.
And a powerful new right enables residents and local firms to demand that their council reviews parking in their area, including the charges and use of yellow lines.
These parking measures which are now in law are a victory for drivers and one of a number of initiatives introduced by the government to support high streets and give local shops a fairer deal.
Further information
The Department for Communities and Local Government has recently taken over responsibility for off-street parking on both private and public land from the Department for Transport.
Office address and general enquiries
2 Marsham Street
London
SW1P 4DF
Contact form http://forms.communiti...
General enquiries: please use this number if you are a member of the public 030 3444 0000
Published 28 March 2015