Civilian mechanics keep wheels turning at Bastion
Defence Support Group (DSG) personnel are responsible for the essential maintenance and repairs at Camp Bastion's Equipment Support Solution…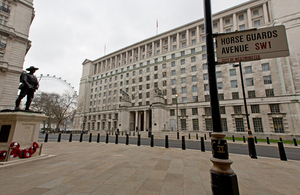 Defence Support Group (DSG) personnel are responsible for the essential maintenance and repairs at Camp Bastion's Equipment Support Solution Regeneration Capability.
Once inside the huge, £12m, purpose-built, air-conditioned and well-ordered state-of-the-art workshop, it is easy to forget that you are in Afghanistan at all, but the expense and sophistication has a dual purpose.
Officially opened in January this year, the workshop allows for vehicles to now be maintained and repaired in theatre, closer to the guys that use them. And this saves the Treasury an estimated £15m a year.
Steve Faulkner, who has progressed from an apprentice in the DSG to Head of Production at the Bastion facility, spoke of its achievements with obvious pride:
We do the work we would do in the UK and that saves money, but it also keeps the vehicle closer to the unit," he said.
He explained that to send a vehicle back to the UK for its two-year '932' (the military equivalent of an MOT) costs around £150,000 and can take up to five months.
Reducing the time the vehicles are out of theatre also means the size of the fleet can be reduced, making an estimated saving of £50m. However, Steve stresses that they are not there to do the work of the Royal Electrical and Mechanical Engineers:
Their role in life is to keep the unit-level repairs going, and to service platforms out in the FOBs and PBs [Foward Operating and Patrol Bases] - we are not allowed outside the wire.
This is not the first time civilian engineers from DSG have worked alongside their military customers. For a number of years, DSG, a MOD Trading Fund, supported the British Army Training Unit Suffield in Canada, and has deployed on operations in Iraq and Kuwait.
While in the UK, DSG employees work in garrisons providing in-barracks equipment support.
The 97 DSG mechanics and support staff currently working in Camp Bastion overhaul all manner of vehicles and equipment in the military fleet - from the front line Jackals, Ridgbacks, Huskys and quad bikes, and the logistic fleet of MAN trucks, tankers and loaders, to plant equipment such as excavators, bulldozers and generators.
They even have facilities for repairing sophisticated surveillance equipment and loudspeakers:
They all come in, they all have a full inspection and a 932," said Steve.

When they go out they are classed as what is called 'task worthy' and fit for service in theatre. We do a lot of upgrades as well, modification work and up-armouring.

Our portfolio is continuing to expand. At the moment we do 60 to 65 platforms a month, but over the next three months that is going to go up to 85 with the additions we are getting.
Servicing a vehicle in Afghanistan is not a case of changing the oil and checking the brakes:
Suspension, all the running gear and the electrics take a battering," said Steve, adding with a smile, "we also see a lot that come in with some pretty severe damage.
He points to the skeletal remains of a Cat 257, a type of tracked digger:
That one was dropped out of the back of a Chinook - it lost its top cab on the way down. We have put a lot of it all back together again and straightened it out. It will go back out and will be fine.
With a working pattern of ten-hour shifts, six-days-a-week, for a one-year tour in the less than salubrious surroundings of Camp Bastion, you might think that volunteers to carry out the work would be hard to find, but far from it; many DSG employees are desperate to do their bit in Afghanistan:
A lot of the guys here are already lining up to come back," said Steve.
Of course, employees are rewarded with monetary allowances for the long tour in such conditions, but for many it is more about the sense of contributing to the front line that drives them on and makes them want to come back:
The priority for us here is completely different," said Steve. "There is a real can-do attitude. The front line is just 15 miles [24km] away and people realise that there is a guy out there getting shot at that needs this vehicle.

We were one off our production target last month on Friday morning so the guys worked into the night to get it finished because they wanted it done to go out.
For Roy Gibbs, a vehicle fitter usually based at Longmoor in the UK, the sense of feeling his work is connected to those out in the FOBs and PBs has been extremely satisfying.
Working on light field generators used in remote bases to power everything from laptops to kettles, he has become known affectionately by the soldiers as 'generator man':
The boss used to come along and tell me I was known as the generator man, which I thought was just rubbish, until some of the guys came in and said how they do appreciate it," said Roy.
He explained that many said a reliable generator can make a real difference to life in a remote base:
When they come and tell you that, it's good. The regular updates on operations and the vigils we go to bring it home to you what they are going through, so whatever you can do to make it easier, you do.
Mark Davis, a vehicle mechanic currently working on MAN trucks, also said that hearing about the effects of his work out on the ground is a great motivator, but as a TA Corporal in the Royal Wessex Yeomanry, he perhaps understands it more than most:
You know you have to get it right because ultimately the work you do here is saving lives out there," he said.
This article is taken from the November 2011 edition of Defence Focus - the magazine for everyone in Defence.
Published 4 November 2011