Civil Service Reform Plan published
The Civil Service Reform Plan was jointly published by the Minister for the Cabinet Office and the Head of the Civil Service.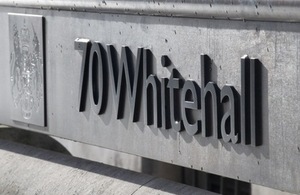 19 June 2012
CAB 049-12 
The Civil Service Reform Plan was jointly published by the Minister for the Cabinet Office, Francis Maude, and the Head of the Civil Service, Sir Bob Kerslake, today.
The plan sets out a series of specific and practical actions for reform, which, when implemented, will lead to real change for the Civil Service. It is a working document and the first stage of a continuing programme of reform. It will equip a smaller Civil Service to meet current and future challenges, including the demands of public sector reform and rising consumer expectations, as well as economic and financial challenges. 
Launching the plan, Francis Maude and Sir Bob Kerslake said the Civil Service of the future will look, feel and operate differently. It will have a more innovative and less hierarchical culture, with a much sharper focus on outcomes rather than processes, and will be more flexible and corporate. The plan will also help to deliver clearer accountability, more digital services, better management information, and will ensure that policy and implementation are seamlessly linked.
This action-focused plan was developed following wide-ranging consultation across the political spectrum, as well as with previous Permanent Secretaries, and after listening carefully to those in the Civil Service itself. In fact many of the ideas in the plan were suggested by civil servants - including through the Tell Us How programme and staff surveys. As a result it will make changes that civil servants themselves want to see, such as better performance management, a more corporate Civil Service, and more active career development.
Key actions in the Civil Service Reform Plan include:
More rigorous performance management: performance management will be strengthened by standardising competency frameworks across government and implementing a tougher appraisal system which, for the SCS, identifies the top 25% and the bottom 10%.  Good performance will be recognised and poor performance tackled. Civil servants have told us they are frustrated by a culture where exceptional performance is not sufficiently recognised and under-performance is not addressed. 
Strengthening capability: by autumn we will have a cross-Civil Service capabilities plan that identifies what skills are missing and how gaps will be filled.  For the first time talent will be deployed corporately - so people with the right skills in departments can be matched to the greatest corporate need.  With more services commissioned from outside, there is a serious lack of commissioning, contracting and digital skills. 
Unified Civil Service: there will be a more unified approach to developing talent and building capacity across the Civil Service. Shared services will become the norm to ensure that there is a consistently high quality service available to every Department.  
New ways of delivering services: by autumn the Cabinet Office will have completed a review with departments to see what further examples of change in delivery models can be implemented this Parliament. The old binary choice between the monolithic in-house provision and full-scale privatisation has been replaced by a number of new ways of delivering services, including mutuals. Digital by default needs to become a reality.
Creating a modern employment offer for staff: the Civil Service will be a good, modern employer and continue to be among the best employers in the country.  Departments will undertake a review of terms and conditions to identify those beyond what a good, modern employer would provide.  We will also take actions to ensure staff get the IT and security training they've been asking for so they can do their jobs properly.
Open policy making: a new presumption in favour of open policy making, with policy developed on the basis of the widest possible engagement with external experts and those who will have the task of delivering the policy once announced.
The Minister for the Cabinet Office, Francis Maude, said:
Most civil servants are dedicated and hard-working, but like all organisations the Civil Service needs to address long-standing weaknesses and build on existing strengths.  Taken together, and properly implemented, these actions will deliver real change and are the first stage in a programme of practical actions for reform.

To succeed in the future we need a Civil Service that is faster, more flexible and more innovative - better able to deliver this government's ambitious programme of reforms to the public services on which we all rely. Because of the size of the deficit we inherited in 2010 our Civil Service is smaller today than at any time since the Second World War. This has highlighted where there are weaknesses and strengthened the need to tackle them. 

We need to build capabilities and address missing skills, embrace new ways of delivering services - for example through mutuals - and do more digitally. To improve decision making we need better management information and greater accountability. And we are responding to the concerns of civil servants by transforming performance management and career development in what will be a more corporate Civil Service.
Head of the Civil Service, Sir Bob Kerslake, said:
I am proud to lead the Civil Service which has great strengths, and has demonstrated time and again that it is able to deliver under complex and challenging circumstances.

The Civil Service of the future will be smaller and more unified. It needs a culture which is pacier, more innovative and less focused on hierarchy and process. Civil servants around the country have told us that they want change and I believe that they will embrace this plan fully. It will enable them to carry on doing what they do best, which is to deliver essential public services which make a real difference to people's lives.
Cabinet Secretary, Sir Jeremy Heywood, said:
Our Civil Service is rightly regarded as one of the best in the world, thanks to the hard work and dedication of civil servants across the country. But we cannot afford to be complacent - if we aspire to be the very best then it's essential that we continue to evolve, building on our strengths and dealing with our weaknesses.

This practical, hard-headed plan is all about making the Civil Service more flexible and efficient, ready to deal with the challenges we face on a daily basis and ensure we provide a first-class service to the government of the day and the country as a whole. The task now is to make sure the words in the plan are turned into a concrete set of implementation priorities.
The Civil Service is already seeing considerable change across departments, but the scale of the challenges requires a reform plan that applies right across the service. 
Today's Civil Service Reform Plan sets out the priorities for action now. It is not the last word on reform and will be the first stage of a continuing programme of reform and improvement.
As a result of the actions set out in today's Reform Plan, the Civil Service will remain a good, modern employer that offers interesting and varied work that makes a real difference to people's lives across the country on a daily basis.
Notes to editors
The Civil Service Reform Plan can be found at www.civilservice.gov.uk/reform.
Published 19 June 2012