Civil servant celebrates 50 years with the MOD
Ms Avril Dibbens, one of the longest-serving, current, full-time Ministry of Defence civil servants, is today celebrating the fiftieth anniversary of her joining the Civil Service.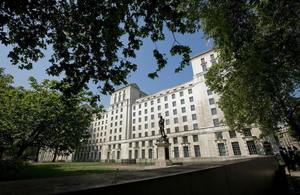 Ms Dibbens joined the Admiralty Surface Weapons Establishment on 13 August 1962, two weeks after her 15th birthday, as a shorthand typist.
She has spent most of her career in Fareham, including a long spell in the Portsdown main building, but has been based at the Defence Science and Technology Laboratory's (Dstl's) site at Porton Down since 2005.
At Dstl, Ms Dibbens is employed as the Executive Assistant to Dstl Infrastructure Director Graham Balmer and Finance Director Mark Alexander, a post she has held for four years.
Mr Balmer said:
They really broke the mould when they made Avril. I have rarely met anyone with her devotion to duty. After five decades' service in the Ministry of Defence, her motivation, enthusiasm and dedication to duty are undiminished.
Throughout her career, Ms Dibbens has worked with senior members of the MOD's leadership across a number of organisations which predate Dstl, including spells in London, Portsmouth, Malvern and Farnborough.
Ms Dibbens said:
I've always enjoyed my time because I've had lots of interesting jobs, though I have only had one employer. I've worked with different people at different sites so it has often felt like doing a new job.
I feel that IT has changed the most over the course of my career. I started off on typewriters and sending letters that you didn't expect to arrive for two days; now everything is immediate with email and the internet so widely used.

I still use shorthand as a means of recording, I still think in shorthand, but I'm not quite at the 130 words per minute I was at when I left college in 1962.
Ms Dibbens continued:
I've only taken ten certified sick days during my career and have taken five days casual leave. I think this could be in my blood - my grandmother added another ten years to her career by lying about her age after a fire destroyed human resources records.

She retired aged 75, with her employers thinking she was 65 - I don't think I could get away with that these days.
Ms Dibbens's achievements have not been limited to the workplace; in 1974 she was crowned national typing champion - on an Imperial 66 manual typewriter she typed at 93 words per minute for 30 minutes, coming first for accuracy. As a prize, the British Commercial Institute of Typewriting presented Ms Dibbens with a portable typewriter.
Published 13 August 2012