Press release
"City of Culture bid is Swansea Bay's time to shine"
Welsh Secretary backs Swansea Bay's bid to be UK City of Culture 2017.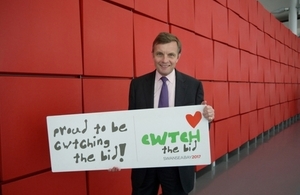 Boasting the UK's first area of outstanding natural beauty, and the region that brought the first passenger railway to the world, Swansea Bay's amazing achievements, past and present make it a true contender to be crowned UK City of Culture 2017.
This is the view of the Secretary of State for Wales, David Jones MP who will today (27 September) visit Swansea to sample a taste of the culture on offer in the region. He will visit the Taliesin Arts Centre, the National Waterfront Museum and the Hafod Copper Works site, and underline his full support to the city's bid for City of Culture status in 2017.
Swansea Bay – which encompasses Swansea, Neath Port Talbot, Llanelli and Carmarthen – will take on Hull, Dundee and Leicester in the bid to win the prestigious title that could boost the city's cultural life and economy. In 2010, it was announced that Derry-Londonderry would become the UK's first City of Culture in 2013.
Winning the title and hosting a year of cultural events will help to attract more visitors to the city, bring community members together, and increase levels people working together on creative projects.
Secretary of State for Wales, David Jones said:
From its National Waterfront Museum in Swansea, the miles of stunning Gower coastline, and the National Botanic Gardens of Wales in Carmarthenshire, there is no doubt in my mind that now is Swansea Bay's time to shine.
I have been inspired by the vision and drive of the bid team, and I know that they will put forward the strongest case possible in the race for the title.
Managed by the Department of Culture, Media and Sport (DCMS) the City of Culture programme is inspired by Liverpool's time as European Capital of Culture in 2008.
A survey commissioned by Liverpool City Council to measure the impact of the festival found that in their year as European City of Culture, Liverpool received 9.7 million additional visitors to the city which resulted in over £735 million in additional visitor spend.*
Swansea Bay, together with the three other shortlisted cities, will submit a final bid to DCMS by the end of September. An independent advisory panel will then meet again to decide a winner which will be announced in November 2013.
Cllr David Phillips, Swansea Council Leader, said:
The bid for Swansea Bay to become UK City of Culture 2017 is really starting to gather momentum. It's very encouraging to hear that it also has the full backing and support of the Secretary of State for Wales – he's the latest in a long line of people to have backed the bid, including Michael Sheen, Mal Pope, and Michael Laudrup and his squad of Premier League Swans.
If Swansea Bay lands this prestigious status, it will benefit people across the region by offering a programme of affordable cultural events that will appeal to all ages and tastes. Winning the bid would also be a tremendous boost for the Swansea Bay economy.
Secretary of State for Wales, David Jones added:
Swansea Bay fully deserves the opportunity to fly the flag for Welsh culture in 2017. The Wales Office is fully supportive of its bid for City of Culture status, and we wish the team every success.
NOTES TO EDITORS
*The City of Culture title is awarded to a city every four years for a period of a year.
*The eleven cities that put themselves forward for the UK City of Culture 2017 were: Aberdeen, Chester, Dundee, East Kent, Hastings and Bexhill-on-Sea, Hull, Leicester, Plymouth, Portsmouth and Southampton, Southend on Sea and Swansea Bay.
**Figures taken from 'Creating an Impact: Liverpool's Experience as European Capital of Culture' research report.
Published 27 September 2013
Last updated 1 October 2013
+ show all updates
Added translation
Added translation
First published.