News story
City Minister sees how NatWest's Birmingham branch is supporting businesses of the future
NatWest's partnership with a local Birmingham organisation is supporting 80 entrepreneurs as they seek to grow their businesses.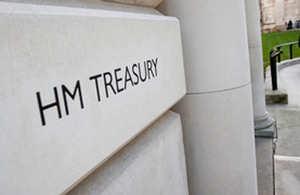 City Minister Andrea Leadsom today (12 March 2015) visited Birmingham to see first-hand how a partnership between NatWest bank and an organisation that helps small businesses is supporting 80 entrepreneurs as they seek to grow their businesses in the city.
NatWest has twinned up with Entrepreneurial Spark and dedicated a large part of its office at St Philips Place to helping small businesses by creating a hub where they can get free office space, Wi-Fi, expertise and advice for up to 18 months. The hub also offers the entrepreneurs the opportunity to pitch to potential investors.
During the visit Leadsom met Jim Duffy, the Chief Executive Officer of Entrepreneurial Spark, and some of the entrepreneurs housed in the hub, to see how the initiative is helping Birmingham's small businesses get the support they need and benefitting the local economy.
This continues a series of visits by the City Minister to witness how the financial services industry is thriving outside the square mile and contributing to the wider national economy.
City Minister Andrea Leadsom said:
Small businesses are the lifeblood of our economy, which is why a key part of our long-term economic plan is helping them get the support they need to grow and succeed.

There are firms up and down the country who are working hard every day to get their business off the ground or to grow further.

That's why it's great to see first-hand how an exciting partnership between NatWest and Entrepreneurial Spark in Birmingham is already supporting 80 entrepreneurs to grow and develop their businesses.
Small businesses are vital to Britain's economy, accounting for over half of private sector employment and nearly half of all private sector turnover. That is why the government is taking action, because the ability of small businesses to access finance is key for funding investment and ensuring these businesses can grow and create jobs.
In October last year, the government published draft legislation in the Small Business Enterprise and Employment Bill, which introduced new measures to support small businesses get the finance they need to grow, including by helping them seek out alternative lenders if the big banks turn them down for loans.
Jim Duffy, CEO of Entrepreneurial Spark, said:
We are delighted to have launched in Birmingham with NatWest. Our tried and tested accelerator programme has already had a significant impact on the start-up community in Scotland, helping 350 businesses to create over 1,000 jobs and £41 million in turnover to date. Birmingham has been found in a number of pieces of research to be the most entrepreneurial city in the UK, so it's a fitting place for our first hub in England.

Our message to entrepreneurs is work hard, focus and 'Go Do' to achieve the business success of your dreams. Applications are open now for our next intake in August so I'd urge all budding entrepreneurs to submit their applications and start their journey.
The Birmingham hub, which is the first of eight being set up across the UK, opened on 9 February 2015. The next two hubs will be in Bristol and Leeds, and will be opening in the summer.
Over 250 businesses applied to be part of the first hub in Birmingham. 80 successful businesses were selected through a competitive application process, and the hub will now have two intakes every year.
Published 12 March 2015