City level smart city co-operation between UK and China under SPF project
Manchester and Bristol City council lead a SPF project on smart city with Chinese cities.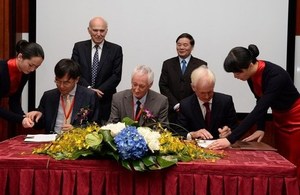 On 26 May, a new FCO Strategic Prosperity Fund project was announced by UK Business Secretary Vince Cable and Yang Xueshan, the vice minister of Ministry of Industry and Information Technology (MIIT).
This project is aiming to promote smart city cooperation between the UK and China. Led by Manchester and Bristol city councils, this project will work with Chinese Government (MIIT) and Chinese cities to develop central government guidance on promotion of smart cities.The project will also examine how Chinese and British business and local governments in both countries can work together to exploit the opportunities.
The project will work to address environmental issues in particular. Smart city development can have a huge impact on energy and carbon emissions. For example, Bristol forecasts that its bid to become "smarter" will result in a drop in CO2 emissions of 40% by 2020. Manchester also have a target to cut emissions by 30-50% by 2020, becoming a smart city region will be the main approach to achieve that.
This is the first FCO project in China led by UK local authorities. This is a new example of China and the UK working together at a city level, to play a key role in urbanization development in China.
Published 3 June 2014