Citibank win new welfare payment service contract
A new service to replace welfare cheques was announced by the Department for Work and Pensions today.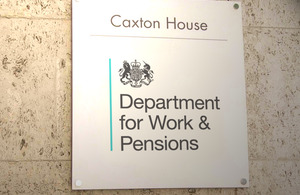 A new service to replace welfare cheques was announced by the Department for Work and Pensions today, as a result of a procurement process started in 2007.
Citibank will provide the new-over-the-counter service at PayPoint outlets across the country from 2012 in a contract worth around £20m a year. We will begin to introduce the new service from 2012, and payments by cheque will be phased out gradually to make sure people have time to prepare for this change.
Many customers will be able to use a bank account and can choose to continue using their local Post Office through switching to a relevant account or Post Office Card Account to receive their entitlements
The decision to end payment by cheques is supported by the dramatic fall in their use over the last few years, with less than 2 per cent of welfare payments made by cheque. It now costs the taxpayer around £30 million to process cheque payments and they are easily open to fraud, costing £5 million every year.
Chris Grayling, Minister for Employment said:
This new contract represents value for money for the taxpayer. The facts are payment by cheque is now too costly and too open to abuse and we want our payment system to be as cost effective as possible.

We will make sure that everyone who receives their payments by cheque has all the help they need for the changeover and we can assist in choosing another method of payment that better suits their needs.
The Government announced a new £73 million fund to help the modernisation and growth of Credit Unions so they can more effectively help those people who are financially excluded by giving them access to affordable bank and savings accounts and other financial services that meet their needs.
Ministers expect the Post Office network to play a central role in enabling Credit Unions to reach more families. We would like to see people accessing Credit Union accounts across Post Office counters as well as credit union branches.
In linking with Credit Unions the Post Office would be providing access to full transactional banking, weekly and fortnightly bill payments, savings, and low cost credit services to financially excluded people who currently have limited or no access to these services and who are often forced into the hands of loan sharks.
A series of pilots where the Post Office will verify identities for National Insurance applications, as well as check documents for State Pension and Pension Credit applications was also announced.
Chris Grayling said:
I know that the Post Office will be disappointed that they didn't win the payment contract, but this is the time to start looking forward, not back.  There are real opportunities for the Post Office to deliver services in new, more efficient ways and for them to support Government as we drive forward reform of the welfare system.
Notes for Editors:
The Post Office's annual turnover is in excess of £1 billion.  The value of the cheque payment contract is 1 per cent of this.
The Department for Business Innovation & Skills (BIS) announced £1.34 billion of funding for the Post Office over four years on 9 November 2010 to modernise the network and put it on a more stable financial footing.
BIS has announced an agreement between Post Office Ltd and Royal Bank of Scotland that will give RBS and NatWest customers access to their current and business accounts through the Post Office, and their long-term goal to convert the Post Office into a mutual structure.  The Postal Services Bill is currently passing through the House of Lords.
DWP will continue to work with the Post Office to explore further opportunities for them to support new ways of delivering our welfare reforms.  The Post Office could play an important role in delivering the Universal Credit, building on the work already underway in verifying identify as part of the National Insurance application process and in claiming pension benefits. Other new business opportunities for the Post Office in the future include improving accessibility to Jobcentre Plus services, including access to online services via Jobpoint kiosks, and a 'print on demand' service for DWP benefit and information leaflets across the network.
Published 3 March 2011