Press release
Churches network wins Big Society Award
Prime Minister gives Big Society Award to The Cinnamon Network in recognition of their work in helping local communities.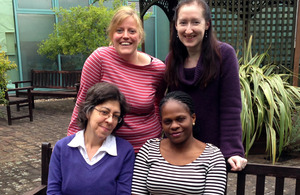 The work of a network of churches, social enterprises and charities working together to help people most in need in their local communities, has been recognised by Prime Minister David Cameron with a Big Society Award.
The Cinnamon Network provides small start-up grants of up to £2,000 to churches to fund social action projects including Street Pastors in Manchester, a befriending scheme for isolated older people in Wokingham and debt advice services in Bradford.
The Network launched in 2010. It supports projects in every region in England and has begun expanding into Scotland. It is estimated that 2,950 local churches are running projects in their local communities, with the help of 47,440 volunteers and benefiting 690,242 people.
Commenting on the award Prime Minister David Cameron said:
I'm pleased to be able to give The Cinnamon Network this Big Society Award in recognition of the huge difference they have made across the country.

From jobs clubs to street pastors, by supporting churches to address the most pressing issues in their neighbourhoods, The Cinnamon Network is transforming communities for the better.
Matt Bird, Co-Chair of the Cinnamon Network said:
The Cinnamon Network is strengthening the muscles of local churches by generating ideas for community projects, encouraging neighbouring churches to work in partnership and providing £2,000 micro-grants to any church that wants to start a recognised project.

We want to make sure that local churches have the funding and support to do what they do best - reaching out to their local communities to help those most in need.
Notes for Editors
The Cinnamon Network supports projects in every region of England including:
Tunbridge Wells, where a group of nine churches; the New Life Calvary Church St Philip's Church, King Charles the Martyr, Vale Royal Methodist Church, United Reformed Church, TW Baptist Church,Salvation Army Church, St James' Church, St Augustine's, and King Charles the Martyr are being supported to run Nightshelters providing short term accommodation for homeless people
Portsmouth, where the network has helped fund a debt-advice centre
Cornwall, where Cinnamon Network grants have allowed Community Money Advice centres to be set up in Launceston and Bude
Sparkhill, where St John's Church has received funding to run a Community Money Advice centre as part of the Narthex Community Centre
Greater Manchester, where grants from the Network have helped provide personal development sessions for ex offenders
Across the North East the network supports and helps fund 'Open Door North East', providing assistance and training to help refugees integrate into the local community
Corby, where the Network's 'Lunch' scheme provides healthy, cooked free school meals in the holidays
In Norwich, Peterborough and Cambridge 'Hope into Action' have been given support and seed grants from the Network to help them provide housing for homeless people in partnership with local churches
Bradford is the home of Christian Against Poverty's debt advice services which, with support and funding from the Network, offer a combination of professional debt management, financial education and face-to-face support and encouragement
For a full list of franchises please go to the Cinnamon Network website
For more information about projects in your local area please contact Hannah Swithinban.
The Cinnamon Network is a rapidly growing part of Christian relief and development agency Tearfund, which has been helping UK churches with community transformation projects for the past 15 years, and now has 11 staff members and more than 25 volunteers acting as UK coaches and advisors.
The Cinnamon Network is a partnership between Make It Happen, Piercing Blue and Tearfund operating under Tearfund's management and governance. It is chaired by Matt Bird, CEO of Make It Happen, and David Westlake, director of Integral Mission at Tearfund.
The Cinnamon Network now publishes a weekly blog about social action promoting best practice and funding opportunities which is already read by over 3,000 people.
Images available upon request.
For Media Enquiries please contact:
Hannah Swithinbank - The Cinnamon Network
Phone 0208 943 7847
Email hannah.swithinbank@tearfund.org
Laura Piscaer - Big Society Network
Phone 0207 854 5895
Email laura@thebigsociety.co.uk
On the Big Society Awards:
The Big Society Awards were set up by the Prime Minister in November 2010. The aim is to acknowledge individuals and organisations across the UK that demonstrates the Big Society in their work or activities. In so doing, the aim is also to galvanise others to follow.
The award focuses upon three specific areas:
Outstanding Contribution to Community
people, projects and organisations that enable communities to drive change themselves
projects and organisations that allow the community to identify solutions
people, projects and organisations that inspire others to contribute to their community
Improving Lives and Society through Innovation, Collaboration and New Partnerships
people and organisations taking new approaches to public services
successful collaboration and partnerships between public, private and voluntary sector - working together to benefit communities
Engaging in Social Action
people, projects and organisations taking action in their community
working together for social change (e.g. through creating groups, campaigns, movements)
generosity of time, money, skills and other resources – in support of social action
Launching the awards, the Prime Minister said:
There are some amazing projects and remarkable voluntary work going on in towns and cities up and down the country, by all kinds of organisations from large enterprises to tiny grassroots schemes and inspirational individuals.

These awards are a chance to pay tribute to those making a valuable contribution to their community, the real champions of the Big Society, but perhaps more importantly, I hope they will motivate many others to take action, get involved and drive change in their area.
Nominations come in from the general public after which there follows a process of scoring and short-listing by civil servants and a further short-listing by a Panel of Ministers and independent external experts. This Panel makes recommendations to the Prime Minister who makes the final decisions about who to make the award to. Twelve winners are decided each quarter meeting and then announced once a week throughout the year.
Seventy-seven winners have been announced to date, including:
Street Angels – CNI Network encourages churches to work in partnership to think creatively around how needs of the night time economy can be met

Biddick Hall Community Focus Group based in the North East has transformed the community through local action on health, crime, employment and activities for young people

Bob Hatcher - Supports local authorities by providing volunteer 4x4 drivers to reach the vulnerable at times of need
For a full list of winners visit http://www.bigsocietyawards.org.
Published 3 June 2013