News story
Churches damaged by floods get funding for repairs
Government commits funding to help with urgent repair work for churches damaged in flood affected areas.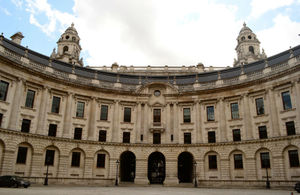 The Churches Conservation Trust, a national charity that protects 344 churches of particular historic importance that are at risk has estimated the amount needed to repair the damage at a total of £100,000.
The funding will be going direct to the Trust and with work already began on necessary repairs for the many churches from restoring damaged pews and fixing windows to repairing roofs and pump out flood water. It is expected that the extra funding will mean that all work will be complete by the end of March 2014.
Tourism Minister Helen Grant said:
Churches are at the centre of many of our communities and this money will help to quickly repair those damaged in the floods and prevent further damage.

Our historic churches play an important part in local tourism throughout the country attracting 2 million visitors a year. This money will help those churches of great heritage value that have been hit hard by the extreme weather and require urgent repair work to protect them from further damage so they can be enjoyed by future generations.
The funding will go to at least 11 churches from those areas worst hit from Dorset and Devon in the South West to Norwich and East Bradenham in the East of England.
St George's church, which rises from the rocky, dramatic peninsula on the isle of Portland Dorset has suffered badly with rain pouring in through the gallery and ground level windows creating pooling in the church.
Also in Dorset the picturesque All Saints church, Nether Cerne is suffering from flooding as a result of its usually idyllic riverside location
In Lincolnshire St Martin's church has had ridge tiles blown off and slates broken in the stormy conditions leaving holes in the roof.
The other areas to receive funding to repair damage to churches include;
Holy Trinity, Torbryan, Devon
St George, Goltho, Lincolnshire
St Andrew, Hove, Brighton
St Nicholas, Feltwell, Norfolk
St Augustine, Norwich, Norfolk
St Mary, East Bradenham, Norfolk
St Thomas, Bristol
All Saints, Shorncote, Gloucestershire
Crispin Truman, chief executive, The Churches Conservation Trust said;
Inevitably the recent extreme weather has hit a number of our historic churches around the country with issues from serious flooding and water ingress to wind damage causing holes to appear in church roofs. As a charity these unexpected urgent repairs create a financial burden so we are extremely grateful to be receiving emergency funding from the Department for Culture Media and Sport in order to help us repair the damage quickly.
Further information:
Published 4 March 2014