News story
Christmas message to defence personnel
The Defence Secretary, the Chief of the Defence Staff and the Permanent Secretary have sent a Christmas message to all defence personnel.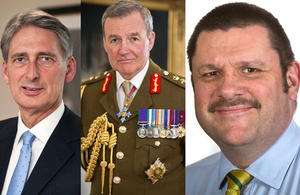 This Christmas, many soldiers, sailors, airmen, marines and MOD civilians will be far from home – serving our nation across the globe.
Some will be returning from assisting with disaster relief in the Philippines; some will spend Christmas in Afghanistan preparing for the final drawdown next year; while others will be filling standing commitments all over the world.
Wherever you are, whatever you do, you should reflect with quiet satisfaction on what has been achieved this year. It has been a year of change but you have approached it with determination, spirit, commitment and typical good humour.
Your ability to respond to the call, no matter what the situation, has cemented our reputation as among the most capable and best equipped Armed Forces in the world and our growing reputation in Whitehall for delivery.
This is no mean feat and you can be rightly proud of what you have achieved for Defence and for the nation.
Next year will bring a fresh set of challenges for us all: from the drawdown in Afghanistan to the ramping up of reserve recruitment; from the passage of the Reform Bill to the commemorations of the Great War. Whatever the demands, we will be ready.
So to all those here at home this Christmas or on operations abroad – thank you for everything you have done this year. And thank you to your families as well – who provide such essential support behind the scenes.
We hope you and your loved ones have a very merry Christmas and a happy and successful 2014.
Published 13 December 2013