News story
Christmas joy for old soldier who finally got his medal
A former soldier from Lancashire has received the only service medal he was ever entitled to… 42 years late
Army veteran Joe McKenna, 72, who volunteers at the Duke of Lancaster's Regiment Lancashire Infantry Museum in Preston, left the military in 1970 just months before his Northern Ireland service medal was minted and eventually decided to track down his medal after years of attending parades where he was the only veteran not wearing one.
Sergeant Major Bob Dixon, from 2 Medical Regiment and a fellow volunteer at the museum, offered to help Joe claim his honour. Sergeant Major Dixon said:
I had been helping some visitors at the museum with enquiries about their service medals and so I offered to help Joe too. I got all the paperwork together, went around to his house, and we filled in the documents before sending them off to the MOD Medal Office.
We got a reply within 2 months, the quickest I've ever known; I think the turnaround was so fast because he still lives at the same address that appeared on his service papers back in 1970.
Joe enlisted in the Loyal Regiment, a forebear to the North West's current infantry regiment The Duke of Lancaster's, almost exactly 51 years ago and served in Kenya, Swaziland, Cyprus and Malta as well as in Northern Ireland.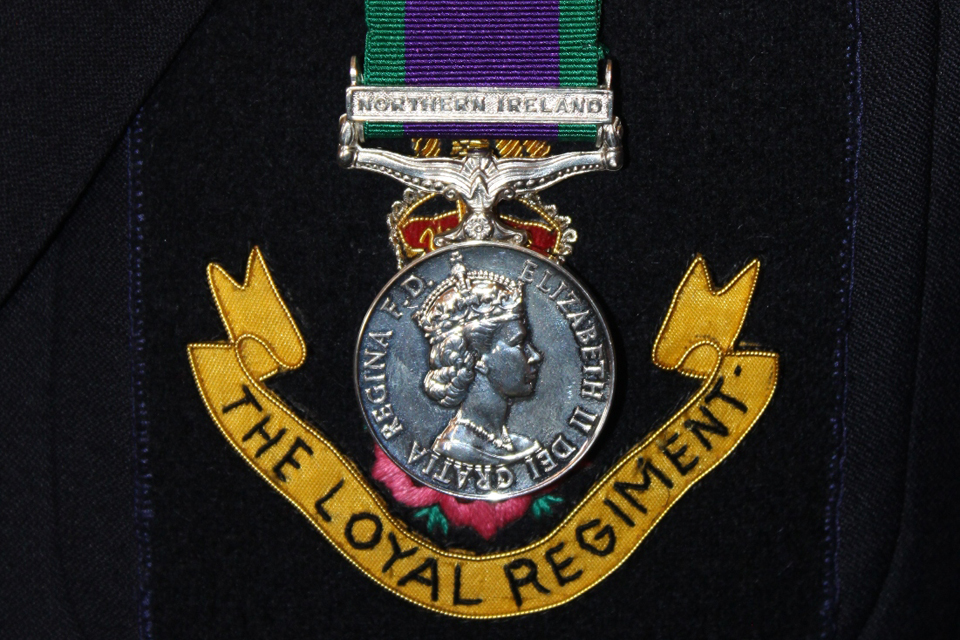 After he left the Army as a Lance Corporal in 1970, Joe worked for more than 30 years as an HGV driver, married Josie, with whom he had his children Sandra and Peter, and is now a grandfather of 5.
Joe said until recently the distractions of day-to-day life meant he just never got around to claiming what was his:
It was only when I was marching at the Armed Forces Day parade in Preston last summer when I thought 'I'm getting on a bit now and I should really get my medal'.
I think my son would like to have it when I'm gone; he and my daughter think that it is marvellous that it's finally here. It's the best Christmas present ever and it makes me very proud.
Joe's wife Josie added:
It really was something special to see his face when he received the medal; it was as if all his Christmases had come at once.
Joe now plans to wear his medal at his regiment's Kimberley Day service and parade in February 2013.
Published 18 December 2012