Christmas cheer for children of deployed soldiers
The event was organised by fledging charity, My Daddy is a Soldier Adventures, whose founders Louise Fetigan and Linda Trickett are both military…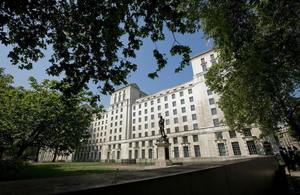 The event was organised by fledging charity, My Daddy is a Soldier Adventures, whose founders Louise Fetigan and Linda Trickett are both military wives and mothers and have experienced their partners being away over the festive period.
The Christmas Party is the first event the charity has organised since it was formed in June 2011.
Major-General George Norton, General Officer Commanding London District and representing both the Chief of the Defence Staff and the Chief of the General Staff, attended the party to give his support to those who had loved ones on operations.
He said:
Christmas is a particularly difficult time for Service families who have loved ones overseas, so we are hugely grateful to the Army wives who have set up this charity and made today's party for the children possible.

It is wonderful to see military families caring for one another in this way, and to experience again the generosity and support of the general public towards the Service community.

Public support is hugely appreciated throughout the year, but particularly so during the run-up to Christmas, when the children will be more conscious than ever of the separation from their fathers or mothers.
Businesses helped the charity provide gifts and activities for the children, with the department store House of Fraser providing a Santa's Grotto for the event. Harrods donated Freddie Bears, Mars UK provided Selection Boxes and Parragon gave books for the party, all of which were given out as gifts by Father Christmas.
The charity founders, Louise Fetigan and Linda Trickett, said:
We're absolutely thrilled to be able to provide such a magical party for 200 British Army children, some of whom have a parent away this Christmas and we hope that we have bought a little bit of Christmas cheer to them and their families in the build up to the big day.

We are completely humbled by the support and generosity that businesses have shown to us by donating gifts for the children, food for the party and activities for the event. We are overwhelmed that they have added so much to the Christmas cheer for the children.
Amy Wood, from Rochester, Kent, and her children Charlotte, aged 10, and Sophie, aged five, said the party was fantastic. Amy's husband, Corporal Daniel Wood, is serving with 35 Engineer Regiment in Afghanistan this Christmas. She said:
I am really missing him and this is the longest time that he has been away. I think it's been a particularly hard tour for him but I shield the girls from that. The Christmas party is great for the children as they have been able to see their friends that they haven't seen for a while and it's given them something to focus on.

Attending the party really reminds them that they are Forces children and that they are part of a great community that really pulls together and supports each other when it comes down to it.

For all these children here today their dads will go away for a long time and they are able to come together at this great event, which is definitely something positive for them.
Published 23 December 2011