Christmas Box campaign for Armed Forces launched
The uk4u Thanks! 2010 Christmas Box campaign was launched at St John's Wood Barracks in London, home of the famous King's Troop Royal Horse Artillery, 1 December 2010.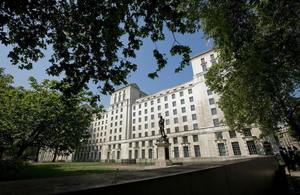 The campaign sees some 22,500 boxes full of festive cheer being sent to servicemen and women right across the world who are working away from their families this Christmas.
To launch the campaign in truly festive style, a seven-foot (2m) Christmas tree was decorated with Christmas Boxes, affectionately known as 'square stockings' by the Armed Forces, outside the Officers' Mess, with a member of King's Troop, Gunner Kuziva Dapira, mounted on his horse Caprice, placing the final box at the top of the tree.
Also in attendance were Father Christmas and members of the Armed Forces who have received a Christmas Box while serving on operations on Christmas Day.
uk4u Thanks! works with the Armed Forces to send the boxes, containing some 20 items, out to locations such as Afghanistan, the Falklands, and to ships and submarines across the world in time for Christmas Day. They do not use the British Forces Post Office system, so do not delay parcels from family and friends getting through.
Minister for Defence Personnel, Welfare and Veterans, Andrew Robathan, said:
The MOD is an enthusiastic supporter of the Christmas Box campaign, bringing cheer to those members of the Armed Forces serving abroad on operations over the festive period.
Knowing that the public are behind them when they are working in often very difficult conditions, especially at this time, is a real morale-boost for our servicemen and women.
Sergeant Ian Breeze, Royal Marines, who attended the event, said:
I have received a uk4u Christmas Box in the past, and found the items very useful and a real morale-boost. Things like torches always come in handy, as do the little collapsible cups - you never know when someone's going to offer you a hot drink!
Sally Little, uk4u Thanks! trustee, said:
uk4u Thanks! is very grateful for everyone's support and donations in helping us to give our Armed Forces a Happy Christmas. Sending out so many boxes is quite an undertaking, but when we receive messages of thanks from our servicemen and women each year, we know it is well worth it.
Along with donations from the public, the charity is supported by a number of companies including BAE Systems, Finmeccanica, the Nuffield Trust for the Forces of the Crown, and Marks and Spencer.
People wishing to donate to the Christmas Box campaign can do so at the uk4u website - see Related Links - or by sending a cheque payable to 'uk4u Thanks!' to:
uk4u Thanks!
The Old Granary
East Street
West Chiltington
West Sussex
RH20 2JY

Published 1 December 2010