World news story
Chongqing tastes British food through British Food Festival
A two-week long British Food Festival was launched in Chongqing to expand business network in food & drink industry in southwest China.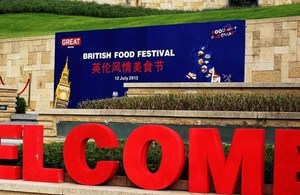 Talk about British cuisine and what comes to mind? When it comes to British food, many people think only of Fish and Chips. But British cuisine has much more to offer. From fine teas to luxury biscuits, from craft beer to mature, full-flavoured cheese, the UK has some world-class products to discover. It's not always easy for local people in Chongqing to taste authentic British cuisine. That's why the British Consulate-General in Chongqing has organised a festival of British food and drink, to run from the end of June 2013 to the mid-July: give your taste buds the newest experience.
The British Food Festival was the first food festival in Chongqing to focus exclusively on British food and drinks. It will last three weeks and involve a series of activities such as special stands in Chongqing supermarkets, a cooking demonstration, special meals and various tastings and other events. British Chain Hotel, Intercontinental, launched a British Food Week at their Chongqing Jie Fang Bei hotel, from 8-14 July, with specially-themed British menus throughout the week. There were British dishes ranging from classic main courses like lamb cutlets with mint sauce to favourite British desserts such as trifle.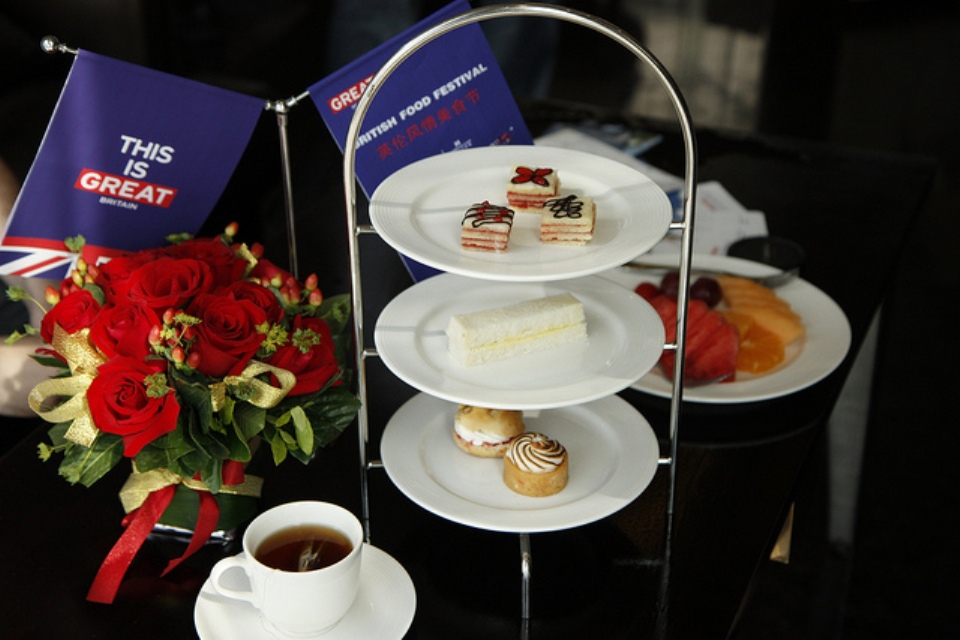 British afternoon tea is a famous symbol of the British elegant lifestyle— invite a handful of good friends and spend the late afternoon sipping quality British tea accompanied by delicate confectionary. But this kind of lifestyle is not just the thing of British period dramas: during the British Food Festival, there will be British Afternoon Tea organised by Chongqing Intercontinental Hotel and Twinings. You can go to Intercontinental Hotel every afternoon in July between 14:30 to 17:30, and taste the over 300-year history British Twinings and small cakes.
British beer is the product of an ancient craft and comes in many different varieties such as Lager, Bitter, Stout and Ale. Bitter beers are amber in colour and rich in flavour but often lighter in alcohol than beers from other European countries, so at strengths that drinkers of Chinese beer might more familiar with. Why not try the famous Old Speckled Hen or Greene King both available in Chongqing supermarkets like Ole and Carrefour.
We can't stop here without mentioning British whisky. Scotland is the world's most famous whisky producing country and Scotch whisky is produced to exacting standards: there are specific requirements of ingredients, the manner of distillation, the percentage of alcohol and the time taken in ageing. That's why not all whiskies can be called Scotch whisky. Whisky lovers in Chongqing can learn from Scotch experts and taste the 'Water of Life' at a special whisky tasting event on 11th July. The highlight of the British Food Festival will be a Grand Reception held in York Ville Chongqing—developed by Hong Kong Land. The event will feature a British tea expert invited by Twinings and Intercontinental Hotel to explain British tea culture and showcase the best ways to enjoy British tea.
British Consul-General in Chongqing Simon Lever said:
In the British Food and Drinks sector, China is UK's the second largest market in Asia. Many well-known British brand food and drinks are already in the Chinese market. Now, people in China have high demands for food quality, and British food and drinks are popular among people in Chongqing. We hope that Chinese consumers will have the opportunity to enjoy the great quality and healthy food that the UK provides.
Published 15 July 2013