Chinese visa system a service to be proud of
Home Secretary Theresa May explains why Chinese visitors to the UK are increasing and how our visa system compares to Schengen countries.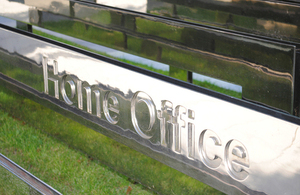 'Our Chinese visa system continues to provide an excellent service in terms of processing time, convenience and value for money. It is a service we can be proud of.
'But the continued use of spurious figures and skewed perceptions of the way we run our visa system is damaging its reputation. And it is the very people who claim to be pro-growth who are guilty of spreading this harmful message.
Chinese visas: the facts
'Let me give you the facts about our visa offer. We have seen strong and sustained growth in visitor numbers from China, issuing visas to more than 95 per cent of applicants - equating to more than 205,000 visit visas.
'We require less documentation and have twice as many visa application centres as Schengen countries. On average our visa application form takes just 10 minutes to complete - and can be completed online. We already provide visa guidance in Mandarin and will be translating the form later this year. What's more, a UK business visit visa costs just £10 more than a Schengen visa and offers far more flexibility, allowing multiple entries within six months, compared to the Schengen visa which allows only one entry.
'This is hardly 'complex and bureaucratic', which is why 90 per cent of those who use the system are positive about the service.
Positive
'There's been much comparison between the UK and France. The truth is that the UK and France issue roughly the same number of visas. Simply joining Schengen is not a 'silver bullet' to getting more visitors.
'The reason a Schengen visa is valid for 26 countries is because there are no border controls between these countries. Our controls in northern France and Belgium are key to ensuring that only those the UK wants are allowed to enter the UK. I do not believe that the British public want us to become part of the Schengen system. And I am not prepared to jeopardise the integrity of our borders.
'After years of uncontrolled migration our visa system and borders must remain strong in order to prevent would-be illegal migrants. Collecting a biometric is vital to this, helping us to 'lock' an individual into an identity. Schengen countries do not require this added level of security, which is another reason why we cannot countenance joining them. In 2011 we stopped over 1000 people from illegally entering the UK as a direct result of biometric visas - and have deterred countless others.
Best and Brightest
'This government remains committed to continuing to attract the brightest and best people to Britain while protecting our border and cutting down on the levels of abuse we saw in the past. The latest statistics show this is working. Net migration has fallen by a quarter while the number of talented and hard working people with the ability to drive forward growth increases.
'We have listened to feedback and practical suggestions from business and tourist sectors and implemented changes.
Boosting numbers
'The UK Government is committed to boosting the number of Chinese visitors.
'To make the most of the vast opportunities in China requires a genuine joint effort between the UK government and business. Government is doing its part. Not only have we made improvements to the visa system, we have launched the first ever cross-government campaign to market the UK overseas. Working alongside the British Council and Visit Britain, the GREAT campaign is our biggest ever investment in marketing the UK.
'The debate on visas has gone on far too long with inaccuracies and untruths, and without consideration for the integrity of our borders. It is time for a sensible debate which considers both the economic benefit of visitors and the strength of our borders. These two ideas are not mutually exclusive - we can, and I believe, do achieve both.
'We are open to the brightest and the best. We are open to visitors who want to enjoy all the wonderful sights and experiences this country offers.'
Published 20 February 2013