News story
Chinese drinks company Wuliangye sign landmark sponsorship deal with Philharmonia Orchestra
First ever-major partnership between a Chinese company and a UK arts organisation is signed at Downing Street reception to mark Chinese New Year and the 2015 UK-China Year of Cultural Exchange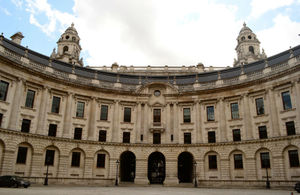 The world renowned Philharmonia Orchestra has today announced a major new sponsorship with the premium Chinese Baijiu producer Wuliangye. The £500,000 deal will run over five years and brings together one of China's premiere brands with one of the UK's cultural leaders.
The deal is signed ahead of the Culture Secretary Sajid Javid's visit to China next week to speak at the GREAT Festival of Creativity in Shanghai and promote the UK's world-class creative industries to one of the fastest growing markets on earth.
2015 is a flagship year for the UK and China with the first bilaterally agreed UK-China Year of Cultural Exchange and the collaboration between Wuliangye and the Philharmonia Orchestra is testament to the early success of this initiative.
Wuliangye, a Chinese alcoholic beverage company, will be the Orchestra's Principal International Partner, and an extensive programme of cultural ambassadorship and artistic collaborations will take place as part of the partnership, both across the UK, in China and within the Philharmonia's wider international touring programme.
Ed Vaizey, Minister for Culture, who was witness at the Downing Street signing commented:
Culture is one of the UK's great international exports and every year hundreds of thousands of people around the world experience extraordinary arts events that have been created by British theatre, dance, opera companies and orchestras.

2015 marks the first UK-China Year of Cultural Exchange and cultural cooperation between the UK and China has never been stronger. It is inspiring to see this new and enlightened partnership between the Philharmonia Orchestra and Wuliangye, which not only offers so much to both organisations, but also offers a model for future relationships with other partners in both countries.
David Whelton, Managing Director of the Philharmonia Orchestra, commented:
This is a truly historic collaboration and it is an enormous privilege to be working with a company that combines real cultural leadership with a genuinely innovative approach to both funding and partnership itself. We are enormously excited by the potential that this relationship offers for both the Philharmonia and Wuliangye and hope that it can create a blueprint for cultural cooperation that can inspire other Chinese companies to work in similar ways.
Mr. Liu Zhongguo Chairman of Wuliangye, commented:
This historic collaboration will integrate one of China's premier beverage brands with classical Western music and we hope the sponsorship will inspire people to enjoy the harmonious balance of drinking fabulous alcohol while listening to world-class classical music. We look forward to strengthening the understanding and recognition between Eastern and Western culture for both the Chinese and British, and the great revitalization of the arts that this will bring.
This historic deal will also see Wuliangye donate a percentage of the profits from a new premium Baijiu brand, developed and produced from the company's headquarters in Yibin, Sichuan Province, through a newly created charitable foundation.
Published 23 February 2015