Children's Minister Tim Loughton shadows Stockport social workers
Tim Loughton announces his commitment to reducing unnecessary bureaucracy in social work following his 5-day visit to Stockport.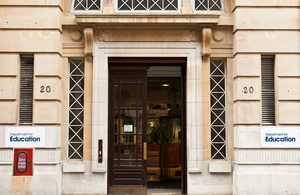 Children's Minister Tim Loughton spent last week (27 September to 1 October) shadowing social workers in Stockport to experience the complex and demanding work that social workers do every day.
The minister was able to see first hand how professionals are working with vulnerable families in Stockport. The five-day fact-finding trip included a meeting of the Local Children Safeguarding Board, an adoption panel, joint agency meetings with the police, and accompanying social workers on home visits and out-of-hours call outs. The minister also spoke to students on the new employment-based training route into social work when he visited the North West Step Up to Social Work pilot.
Children's Minister Tim Loughton said:
Social workers make a positive difference. I have seen at first hand the challenging and demanding work that social workers do every day in Stockport. I'd like to thank everyone who made my week possible - it was a real privilege to work with the team.
I'm determined to put a stop to unnecessary bureaucracy and targets. I want to give the social work profession more support and greater freedom so social workers can spend more time with the children and families who need them.
Professor Eileen Munro's initial analysis of the child protection system in England was published on Friday 1 October, with her final report expected in April 2011.
DfE enquiries
Central newsdesk - for journalists 020 7783 8300
General enquiries - for members of the public 0370 000 2288
Published 7 October 2010