Children's Minister launches a charter for children in foster care
Tim Loughton aims to dispel myths surrounding foster care to give children in the care system the same opportunities as their peers.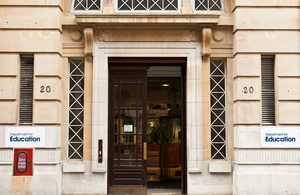 Children's Minister Tim Loughton will today put an end to the persistent myths and red tape around fostering that have undermined foster carers for too long, in a new Foster Carers' Charter published today.
Currently, many foster carers and children in care are facing obstacles to everyday activities, like going for haircuts and sleepovers, which can make children's lives more difficult and put off those wanting to foster. The new Charter sets out clear principles on how foster carers should be treated, recognises their invaluable work and aims to encourage more people to sign up to be foster carers.
In particular, the Charter is designed to:
make it clear that a foster child should be treated as part of the family and their views should be listened to and taken on board
help tackle myths that foster carers cannot let their foster children do everyday activities like sleepovers and holidays without facing excessive restrictions and barriers
set out how foster carers should be supported in their role, so they know what to expect from their fostering service and local authority - this includes being provided with full information about the child they are fostering
help local authorities recruit and retain foster carers and can be used as a tool and guide for what foster carers can expect.
The Charter is backed up by new slimmed-down fostering regulations and guidance, published last week, which make clear to local authority fostering services what their statutory duties are and reduces unnecessary burdens placed on them.
The number of children coming into care has risen in recent years. There are currently 64,400 being looked after in England - over 70 per cent of these children are looked after by foster families. With a shortage of suitable foster families, the Government is clear that the status and experience of fostering needs to improve so more people will come forward to foster and will carry on doing so.
The Charter has been jointly produced by Government, fostering organisations, charities and young children. It is part of the Government's wider programme of reform to improve the entire care system - including reducing barriers and delays to adoption and improving the quality of children's homes. The overall aim is to make sure that all children in care have greater stability, less upheaval and a better chance at a stable family life.
Children's Minister Tim Loughton said:
Foster carers are the unsung heroes of our care system. They do a fantastic, selfless job helping often vulnerable children build stable relationships that can endure into adulthood. Too often I hear stories about foster parents feeling isolated, unsupported, and facing endless red tape when all they are trying to do is enjoy everyday activities with their foster child - like taking them on holiday or even for a haircut.

The new Charter will help to change that. It underlines the huge value we place on foster carers. Not only as role models to the children who look up to them, but also as pushy parents who put those children first. The Charter sets out clear principles of what support should be available and what foster carers can expect.

I hope every local authority and fostering agency will sign up to the Charter. I particularly want local areas to sign up to the spirit of the Charter and build on and develop it in their own way to reflect the needs of the local community.
Listening to young people's views is central to this Government's vision for improving the care system. To help support this, the Department is also today launching a new web tool, Tell Tim, where young people in care, those who have left care or those working in the care system, can send their thoughts, ideas and experiences direct to Children's Minister Tim Loughton.
Both the Charter and Tell Tim represent a new approach to inclusive, responsive Government. The Minister wants to hear about what works and what doesn't and what changes the Government should be considering to make the system better. The Minister will also continue to hold regular quarterly meetings with groups of children in care and separately with care leavers.
The revised fostering guidance published last week:
clarifies delegation of authority to foster carers - so the default position should be that foster carers can take children for haircuts etc, unless it does not fit with the child's care/placement plan
states clearly that CRB checks should never normally be undertaken as a prerequisite for a child to stay over at a friends house and that the default should be foster carers can make such decisions as any good parent would for there own child (taking into account any restrictions in the child's care plan)
addresses confusion about who needs to be approved as a foster carer - for example, currently many providers wrongly believe that other people the child may spend time with (e.g. foster carer's grandparent for a holiday for a couple of weeks) need to be approved as foster carers before the child can stay with them
exempts foster carers from requirements to register as a childminder if they are caring for another foster carer's foster child
removes prescriptions on the use of foster carers by fostering services, e.g. to allow foster carers to act as mentors, train other carers.
In addition, the Government has invited local authorities to bid for funding to provide intensive support to looked after children with complex needs - including those on the edge of care. LAs are invited to bid for between £50,000 and £200,000 to run the following programmes: Multi-dimensional Treatment Foster Care (MTFC), Keeping Foster and Kinship Carers Safe and Supported (KEEP) for looked after children, Multi Systemic Therapy (MST) for children on the edge of care or custody and Functional Family Therapy (FFT) for young people with conduct and offending behaviour.
Robert Tapsfield, Chief Executive of the Fostering Network, said:
We welcome the Government's new Foster Care Charter and its continued support for fostering. Foster carers must always be regarded as equal members of the team working with a child and they need the full support of their fostering service. A Charter that is agreed by fostering services and their foster carers will help to make this a reality. We will be working with fostering services as they put this Charter into practice, so that foster carers get the recognition they deserve and need to provide children with the best possible care.
Peter Liver, Director of ChildLine, said:
We have seen a 30 per cent increase in fostered and other looked-after children contacting ChildLine over the past five years. They have often been through extremely traumatic experiences and are among the most vulnerable children in society.

For the first time, Tell Tim will give all looked-after children a way to speak directly to government and policy-makers, the people who can influence the quality of their lives in care. We are pleased to see the government opening up this channel of communication and its commitment to listening to these children.
Dr Roger Morgan, Children's Rights Director said:
I welcome what this Charter says. A Charter must first make sense, and then must happen. This one makes sense to children - the Minister has put a lot of what they told him they wanted into it. Next, what it says must actually happen and then be monitored.
David Holmes, Chief Executive of BAAF said:
The role foster carers play in supporting some of our most vulnerable children should not be underestimated. Put simply, they transform children's lives. BAAF welcomes the Foster Carers' Charter as a helpful addition to existing legislation and guidance. We hope that it will encourage and support existing foster carers and lead directly to the recruitment of new carers.
David Oldham, CEO of Foster Care Associates said:
As the leading independent foster care agency, Foster Care Associates (FCA) fully supports the Foster Carers' Charter and welcomes the positive impact this will generate not least of all for foster carers but for those involved in all aspects of fostering. As part of the Steering Group, FCA believes the Charter is an important step forward in raising the bar to achieve positive outcomes for looked after children and young people as well as recognising the vital role our foster carers undertake. In today's tough economic climate the need to support vulnerable children is ever more important.
Harvey Gallagher, Chief Executive of the Nationwide Association of Fostering Providers (NAPF) said:
Foster carers are the amazing people who care for children and young people when things get tough. Independent and voluntary sector fostering providers understand the huge contribution that their carers make to the lives of children in care, often children with the most complex and challenging needs. But it is the support we give to foster carers that enables them to play their part; it is what enables them to provide stability and calm for children who have often had very chaotic lives.

Children need foster carers to be there for them 24/7, and we have to be there for foster carers, whenever they need us. NAFP embraces this Charter. We will be taking its message out to all our foster carers, and anyone thinking about becoming a foster carer, so that we can be sure they know how much we value what they do for children.
Kevin Williams, Chief Executive of The Adolescent and Children's Trust (TACT), said:
TACT welcomes the Foster Carers' Charter as an important step in raising awareness of the importance of foster care and of the support that carers and the children they look after are entitled to. Local authorities signing the Charter will need to ensure that cuts do not affect the standards that are expected of them.
John Kemis, Chief Executive of Voice said:
Voice welcomes the launch of the Foster Carers' Charter. Foster carers are so important to give children in care a family home and the care and stability they need. They deserve all the recognition and support we can give. The Charter will complement the Children's Pledge that every local authority should now have for all the children they look after.
Andrew Christie, from the Association of Directors of Children's Services (ADCS) said:
The Foster Carers' Charter reminds us that carers are at the heart of any plan for the child in their care, that they should be involved in decision making and be clear about the support available to them. The Charter provides a clear and easily understandable set of principles to guide the relationship between foster carers and the local authority in providing for the needs of some of the most vulnerable children.
Jane Haywood, Chief Executive at the Children's Workforce Development Council (CWDC), said:
Foster carers play a unique role and rarely get the level of recognition they deserve. This charter will help to emphasize the importance of making sure foster carers are supported so that they can then be confident in fulfilling their role and responsibilities and can get access to the right learning and development, to enable them to have a positive impact on the experiences of the children and young people in their care.
This Charter is a great opportunity to reinforce the importance of building strong partnerships around children and young people in care. We believe it will provide a forum at the local level for services to be more proactive and include foster carers in planning for stability and quality in placements.
Children and young people in care have told us how important it is for them to feel that their foster carers are supported and valued to help them to make the most of their lives. They also tell us they want the people who work with them to share information and work together.
Notes to editors:
The Charter has been developed in conjunction with TACT, ADCS, Foster Care Associates, Children's Rights Director, NAFP, The Fostering Network, BAAF and Voice. The Charter can be downloaded from this page.
The latest statistics on children in care, including fostering are updated monthly and available online.
Details of how local authorities can bid for funding for intensive support programmes for children in care can be found in the Department's prospectus for intensive cost effective and evidence based interventions
DfE enquiries
Central newsdesk - for journalists 020 7783 8300
General enquiries - for members of the public 0370 000 2288
Published 18 March 2011