Press release
Children whose parents have mental health difficulties not supported
Calls to make it mandatory for mental health services to collect data on children whose parents have mental health difficulties.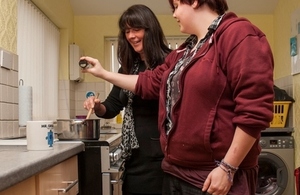 The recommendation is contained in a joint survey published today by the two regulators. The report What about the children? highlights how the lack of identification of children living with parents with mental ill health has led to them not receiving the help they need, with some being left at risk of harm.
Currently, it is a mandatory requirement for adult services to gather information about children and report to the National Treatment Agency for Substance Abuse where their parents have drugs/and or alcohol problems. However, this is not the case for children whose parents have serious mental health difficulties.
The lack of national drivers for these children has meant they are poorly supported and protected compared to those whose parents have substance abuse problems.
Analyses by Ofsted of serious case reviews between 2007 and 2011 where children had either died or been seriously harmed, showed that mental health difficulties, drug and alcohol problems and domestic abuse were the most common characteristics of the families involved.
It is estimated that at any one time as many as 9 million adults – 1 in 6 of the population – experience mental ill health. Data are not collected nationally about how many of the adults receiving specialised mental health services are parents or carers, but it is estimated that 30% of adults with mental ill health have dependent children.
Deputy Social Care Director for Ofsted, Sally Rowe said:
This report raises some significant concerns for children who are living in very difficult and vulnerable situations. If children living with parents with mental health problems are to receive the right support and protection then the same level of scrutiny should be applied as those whose parents have issues with substance abuse. That is why we believe it should be a mandatory requirement for this data to be collected to ensure local agencies are focused on the needs of these children.
CQC Director for Regulatory Development, Philip King said:
Adult mental health services and drug and substance misuse services play an important role in child protection. The point of our joint work is not to question the parenting ability of people with mental health problems, many lead perfectly ordinary family lives. However, information from some notable serious case reviews highlight the fact that some parents and their children need additional support due to the effects that mental illness can have on families. In these circumstances identification and early help is key, and this is what we have identified as the issue.
With no data being collected locally or nationally on the number of children whose parents or carers have mental health difficulties, inspectors found that lack of identification meant poor joint working between children's social care and adult mental health services which potentially left some children at risk.
For example, a mother had a history of anxiety and depression. Her mental health deteriorated after her partner left and was referred by her GP to adult mental health services. The assessment by the practitioner found the mother had not showered in for six months, rarely left the house and spent most days asleep. The assessment noted the mother had two children, aged eight and 10 living with her but identified no risks to them. A referral to children's social care was made some months later only as a result of the mother's admission to hospital.
In long-term cases which were repeatedly opened and closed, children either sometimes received support for a substantial period of a time or intermittently. This raises questions about sustainability of support and the need for long term help when cases are closed, or robust planning if parents are unable to look after their children.
Notes to editors
The What about the children? report summarises the findings of a joint thematic inspection by Ofsted and the Care Quality Commission, exploring the effectiveness of joint working between adult mental health services, drug and alcohol services and children's services to improve the identification of children whose parents or carers have these difficulties and in order that the children are supported and protected. Inspectors jointly visited nine local authority areas. The areas varied in size and geographical context and included metropolitan areas and counties of varying size, with a combination of rural and urban features.
In each area inspectors jointly examined case records with practitioners and/or managers from both adult and children's services. Altogether 105 case records were sampled, examining different key stages of work in both adult services and children's services, from referrals, assessments and joint working on long-term child in need and child protection cases. Each case was looked at from both the perspective of the adult service and the children's service to understand the contribution that each made and how they worked together.
Media enquiries
Clive House
70 Petty France
London
SW1H 9EX
Published 25 March 2013