Press release
Children rescued just in time from sea at Fraserburgh
Three children were spotted being dragged out to sea by the current.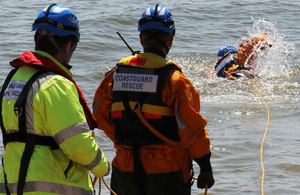 Aberdeen Coastguard received a 999 emergency call from a member of the public at around 4.30pm on Wednesday afternoon (9 July 2014) reporting they had seen two girls and a boy being dragged out to sea off Fraserburgh beach, opposite Tiger Hill.
Aberdeen Coastguard sent the Gardenstown Coastguard Rescue Team and the Fraserburgh RNLI lifeboat to the scene. A rescue helicopter was also put on standby alert. The Coastguard controller reassured the 999 caller that help was on its way and not to let anyone else enter the water.
The lifeboat located the casualties just in time, as they were dipping below the water, cold and exhausted. The children were bought back to shore suffering from signs of hypothermia. An ambulance took them to hospital for a check, but all three were fine.
Aberdeen Coastguard Watch Manager Kevin Brown said:
The children we recovered would not have lasted much longer. The lifeboat crew rescued them just in time.

It is critical to always check the tidal conditions when swimming in the sea. The weather on scene was fine, but the hidden danger of the strong currents is something the public should be aware of. If you do get into difficulty, call 999 and ask for the Coastguard.
Maritime and Coastguard Agency press office
Press enquiries 020381 72222 (Monday to Friday, 9am-5pm)
Outside these hours, for emergency press enquiries only please dial the above number. You will hear a message giving an out of hours pager number.
Published 10 July 2014