Press release
Childminder choice has never been better thanks to first agency
St Bede Academy in Bolton is first childminder agency in the country to be given the green light.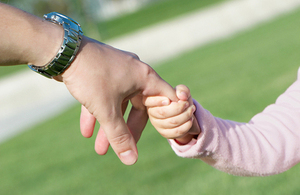 The first childminder agency (CMA) in England will help families find first-class services that fit around their specific working hours and needs.
Parents whose childminders fall ill will be offered immediate emergency solutions thanks to St Bede Academy in Bolton becoming the first CMA in the country to gain the green light.
The new agency will give parents peace of mind about their child's education and care with agencies having regular contact with childminders to ensure high standards are being upheld.
Childcare Minister Sam Gyimah said:
Ensuring parents have access to affordable, flexible, high-quality childcare is part of our plan for education.

Agencies will make life easier for parents by providing a one stop shop to help them find the right early education and care for their child. That kind of umbrella role is something that neither a childminder nor a nursery can currently perform themselves.

I know many parents greatly value home-based childminder care, as well as the role they play in providing wraparound care for children. That's why we want to help childminders thrive in offering quality education and care.
Childminders' registration with CMAs is entirely voluntary, and in return they will receive training and administrative support that means they can spend more time focusing on children and less on bureaucracy.
Agencies will help new childminders spread their initial costs and will be able to offer financial savings in areas such as group activities and shared resources.
Recent reforms have helped all types of childcare, including both independent childminders registered with Ofsted and agency registered childminders. It is now easier for all childminders to access government funding to support 2-, 3- and 4-year-olds.
Headteacher of St Bede Academy Jack Hatch said:
Achieving our goal of being the first CMA to be registered in the UK means a lot to our childcare organisation.

It should help to provide more of our families with excellent-quality affordable childcare and give even more flexibility than we can offer at the present time.

Now we have to start recruiting our team of childminders - we've already had interest from some prospective people who want to train with us to offer great childcare.
Notes to editors
Parents will be able to take up their early education funded place for 2-, 3- and 4-year-olds with agency registered childminders, as well as with childminders directly registered with Ofsted.

Parents will be able to use childcare vouchers and claim tax credits for using agency registered childminders, as well as with childminders directly registered with Ofsted.

St Bede Academy is based on Morris Green Lane, Bolton.
DfE enquiries
Central newsdesk 020 7783 8300
General enquiries 0370 000 2288
Published 28 October 2014